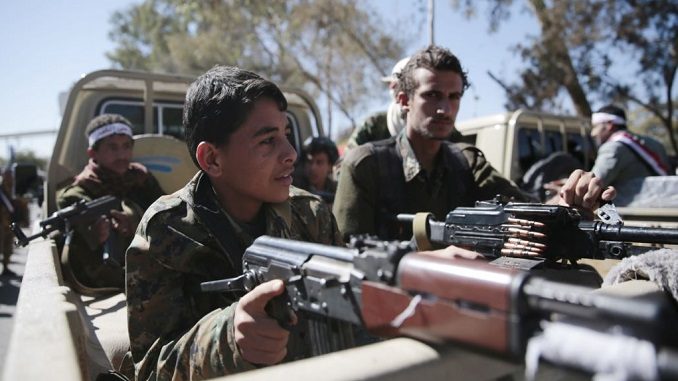 Terrorist militias in the world, especially those supported by Iran, have consistently carried out kidnappings of unarmed "citizens and foreigners", in order to obtain ransom for their release, Asharq al-Awsat reports.
Abductions are one of the worst terrorist acts carried out by Iran or its terrorist proxies around the world. They have several objectives: to draw attention to the kidnapping itself, to carry out major schemes behind the scenes, to rearrange Tehran's bargaining in the region, to overcome damages of economic sanctions imposed on it, and to help those militias finance their operations.
According to several international reports, Iranian-sponsored terrorist groups have taken hundreds of millions of dollars in ransom following the kidnappings of foreign tourists, journalists and politicians, women belonging to "ethnic groups" and others working in relief and humanitarian organizations, and who have been rescuing people in disaster or armed conflict zones.
According to David Cohen, deputy director of counterterrorism at the U.S. Treasury Department, ransom money earned by terrorist groups (Al-Qaeda and ISIS) between 2012 and 2014 amounted to around $120 million, of which $20 million was obtained by "Al-Qaeda" in Yemen alone.
Estimates of international sources also said that Lebanon's "Hezbollah" was able to get about $300 million in exchange for the release of kidnapped individuals in the past years, and used the funds to support its members and arm them for the purpose of engaging in regional wars in several countries, including Syria and Yemen.
In Yemen, organizations reported that Houthi militias abducted around 2,304 civilians from the streets and from their homes, including 987 politicians and opponents to the rebels, while Qatar attempted to exploit the kidnapping propaganda to transfer $500 million to the Iraqi Popular Mobilization Forces, which are supported by Iran, under the pretext of the release of Qatari fishermen kidnapped in Iraq.
Dr. Mohammed Askar, Yemeni Minister of Human Rights, said that Houthi militias "are a terrorist group that has taken over the capabilities of the state and has carried out internationally dubious and illegal acts."
"The group has no legal or political legitimacy and might have resorted to the kidnapping of legal persons and opponents under Iranian orders, in order to intimidate civil society," he added.
The Iranian Regime has confirmed that it will continue to support the Houthis, its terrorist proxy in Yemen, and refused to discuss any potential withdrawal of support for its proxy in Lebanon, Hezbollah. Iranian Regime's state-run television quoted Major General Mohammad Ali Jafari, chief commander of Iran's militant Revolutionary Guard Corps (IRGC) as saying that it will continue to back the Houthi militants after they recently launched an Iranian-made ballistic missile against Saudi Arabia.
Of course, it is not surprising that the Regime would not withdraw support from the Houthis following the recent attack.  All evidence points to the Regime having ordered the attack in order to hurt Saudi Arabia and attempt to avoid blame and punishment, in much the same way as someone would hire a contract killer.
Jafari even went so far as to praise Iranian proxy terrorist groups from across the Middle East, noting that Iran did not want "direct confrontation with Saudi Arabia". It is no secret that Iran prefers to wage proxy wars in other countries and do untold damage to the whole of the region, rather than confront its Saudi foe in a real battle.
"As the backer and the guarantor of [the Houthi] militias, Iran has crossed every red line in the conflict with Saudi Arabia in particular and with the countries of the region in general… Had the Iranian regime not supported the Houthis, Saudi Arabia would never have been targeted," Dr. Ibrahim Al-Othaimin, a Middle East affairs specialist and security analyst, wrote on Al Arabiya.
By supplying a terrorist group with ballistic missiles (in direct violation of UN resolutions 2216, which bans the arming of the Houthi militias, and 2231, which enshrines the 2015 nuclear deal and warns Iran against developing ballistic missiles), the Iranian Regime is putting the whole of the Middle East at risk of attack, not to mention prolonging the conflict and hindering a diplomatic solution to the crisis.
The Iranian Regime has been violating the UN resolutions practically since they were passed and has received little meaningful condemnation for it, which is probably why they felt comfortable doing it repeatedly.