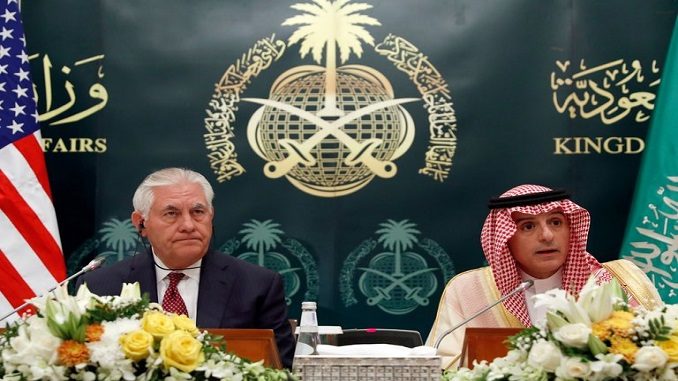 U.S. Secretary of State Rex Tillerson took the Trump administration's case for isolating and containing Iran in the Middle East and beyond to two Gulf Arab nations on Sunday, pushing for Saudi Arabia and Iraq to unite in countering the growing Iranian assertiveness, ABC News reports.
At the inaugural meeting of the Saudi Arabia-Iraq Coordination Council in Riyadh, Tillerson told Saudi King Salman and Iraqi Prime Minister Haider al-Abadi that the nascent partnership between their countries held great promise for Iraq's reconstruction after devastating battles to wrest territory from the Islamic State group and its independence from foreign influence.
"We believe this will in some ways counter some of the unproductive influences of Iran inside of Iraq," he said at a news conference with Saudi Foreign Minister Adel al-Jubeir.
His participation in the meeting comes as U.S. officials step up encouragement of a new axis that unites Saudi Arabia and Iraq as a bulwark against Iran's growing influence from the Persian Gulf to the Mediterranean Sea.
History, religion and lots of politics stand in Tillerson's way, but both the Saudi king and the Iraqi prime minister appeared optimistic about the prospects.
"We are facing in our region serious challenges in the form of extremism, terrorism as well as attempts to destabilize our countries. These attempts require our full attention. We reaffirm our support for the unity and stability of our brother country of Iraq," Salman said.
In Saudi Arabia and later Qatar, Tillerson denounced Iran's "malign behavior" and urged nations of the region and elsewhere, notably Europe, to join the administration to halt any business with Iran's powerful Revolutionary Guard.
"Both of our countries believe that those who conduct business with the Iranian Revolutionary Guard, any of their entities — European companies or other companies around the globe — really do so at great risk," he said as quoted by The New York Times.
Allies of the administration have argued that should Congress decide to reimpose sanctions on Iran, European companies would have little choice but to comply since they would not want to risk being shut out of the $19 trillion American market in favor of Iran's $400 billion one.
With the Europeans on board, Iran would feel the sting of significant sanctions even if Russia and China did not join in. Anticipating an end to the fight against ISIS, Tillerson said Sunday it was time for Iranian-backed Shi'ite militias to exit the war-torn nation of Iraq and either return to their homes, integrate into the Iraqi army or leave the country, CNN reports.
"Those militias need to go home. Any foreign fighters in Iraq need to go home and allow the Iraqi people to regain control of areas that had been overtaken by ISIS and Daesh that have now been liberated. Allow the Iraqi people to rebuild their lives with the help of their neighbors," Tillerson said.
It's not clear how many Iranians are fighting in Iraq. In May this year, a senior commander of Iran's IRGC was reportedly killed fighting ISIS west of the city of Mosul. The large majority of those who make up the militia forces in Iraq, those who operate under the banner of the Popular Mobilization Units (PMU), are Iraqi Shi'ites, and those too are backed, equipped and trained by Iran. According to modest estimates, their number amounts to 100,000.
In 2007, the U.S. military reported that around 40% of all foreign militants targeting U.S. troops and Iraqi civilians and security forces had come from Saudi Arabia. Half of the Saudi fighters who arrived in Iraq during that time went there to be suicide bombers, the U.S. military said.