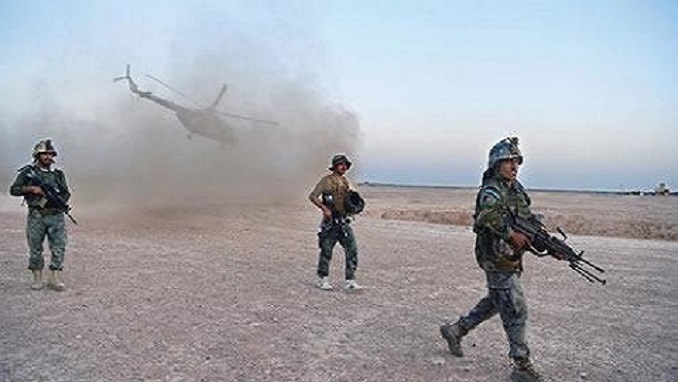 Iran is sending arms and military equipment to Taliban guerrillas in Afghanistan, a top Afghan chief says. It is the first confirmation from a high-ranking official of the war-torn country, Iran Freedom reports.
President Ashraf Ghani raised the matter with his Iranian counterpart during his recent visit to Tehran. General Yaftali said Kabul had documents showing "Iran was providing arms and military equipment to the Taliban in western Afghanistan." He gave no further details.
Some local officials in western Afghanistan in the past had spoken about Iran's role in the Afghan war and its backing of the insurgents. Yaftali's comments are however the first from a high-ranking Afghan official pointing to Iran's alleged support for the Taliban. Taliban spokesmen were unavailable for comment, and the Iranian embassy in Kabul could not immediately be reached. Tehran, which opposes the presence of U.S. troops in Afghanistan, has in the past rejected claims that it backs the Taliban.
Dawlat Waziri, the chief spokesman for the Afghan Ministry of Defense on Thursday said Yaftali's comments were "misquoted" and that he expects a correction. He told Arab News that Afghanistan had "reports, not evidence about Iran's involvement" and that it was verifying the reports. Others say however that there is firm evidence that Iran is supporting the fundamentalist political group.
"Iranian land mines and weapons are used by the Taliban and it is directly engaged in supporting the Taliban militarily and financially," analyst Bashir Bezhen told Arab News.
"It has its reservations over water distribution with Afghanistan and secondly is locked in a deep rivalry with the U.S. in Afghanistan. It wants to see the U.S. defeat and ignominious withdrawal from Afghanistan."
Iran has long been at loggerheads with Kabul, often over water disputes. Much to Kabul's anguish, Iran has in recent years officially hosted mid-ranking Taliban commanders at gatherings of Islamic scholars. Reports of its military and financial backing of the Taliban have increased ever since Ghani's government signed a strategic security pact with Washington in 2014.
Former Taliban leader Akhtar Mansour, who was killed in a U.S. drone strike in Pakistan last year, was reportedly en-route there from Iran where, according to media reports, many mid-ranking Taliban commanders have transferred their families to live.
Some Afghan observers say Iran is part of a regional block pushing the withdrawal of U.S. troops that overthrew the Taliban regime 16 years ago in Afghanistan.