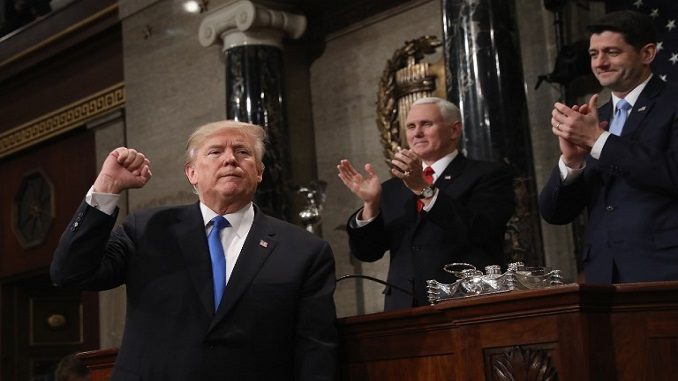 U.S. President Donald Trump has summoned the country to a "new American moment" of unity in his first State of the Union and warned of the dangers from "rogue regimes," like Iran and North Korea, Asharq al-Awsat reports.
Trump's address Tuesday night blended self-congratulation and calls for optimism amid a growing economy with ominous warnings about deadly gangs, the scourge of drugs and violent immigrants living in the United States illegally. He also spoke forebodingly of catastrophic dangers from abroad, warning that North Korea would "very soon" threaten the United States with nuclear-tipped missiles.
"Around the world, we face rogue regimes, terrorist groups," the president said.
He also upped the ante in his stand-off with Iran, vowing U.S. support for street protests against Tehran's regime.
"When the people of Iran rose up against the crimes of their corrupt dictatorship, I did not stay silent. America stands with the people of Iran in their courageous struggle for freedom.  I am asking the Congress to address the fundamental flaws in the terrible Iran nuclear deal," Trump declared.
The president also highlighted gains made against IS in Iraq and Syria while warning that "there is much more work to be done" in the war against the militants.
In recent weeks, U.S. officials have laid the groundwork for a pivot to strategies for a world of renewed great power competition with the likes of Russia and China. In his State of the Union address to Congress and the nation, Trump described Moscow and Beijing as challenging "our interests, our economy, and our values." But he saved his harshest words for Iran and North Korea.
"North Korea's reckless pursuit of nuclear missiles could very soon threaten our homeland. We are waging a campaign of maximum pressure to prevent that from ever happening," he warned, implying he has a narrow window to respond to Pyongyang's ambition.
Singling out Iran and North Korea – which along with Iraq formed his predecessor George W. Bush's "Axis of Evil" – seemed calculated to raise the specter of new conflicts.
Secretary of State Rex Tillerson and Defense Secretary Jim Mattis have been pushing a diplomatic strategy to convince North Korean leader Kim Jong-un to come to the table and negotiate away his nuclear arms. But other senior figures have reportedly endorsed the idea of a "bloody nose" strike to damage Kim's nuclear sector and show the U.S. means business, hopefully without provoking a wider war.
Victor Cha, a senior adviser at the Center for Strategic and International studies and until Tuesday a candidate for U.S. ambassador to Seoul, rejected this in the Washington Post.
"A strike (even a large one) would only delay North Korea's missile-building and nuclear programs, which are buried in deep, unknown places impenetrable to bunker-busting bombs. A strike also would not stem the threat of proliferation but rather exacerbate it," he added, warning that Kim might try to sell nuclear weapons to "bad actors" for money or revenge.
He also announced that he had signed an executive order to keep the high-security U.S. military detention center open at Guantanamo Bay, Cuba.
"In the past, we have foolishly released hundreds of dangerous terrorists, only to meet them again on the battlefield — including the ISIS leader, al-Baghdadi," Trump said.
Abu Bakr al-Baghdadi was captured in Iraq by U.S. forces and held in a prison near Baghdad. In 2004, however, he was handed over to Iraqi authorities, who released him sometime later.
"I just signed an order directing [Defense] Secretary [Jim] Mattis to reexamine our military detention policy and to keep open the detention facilities at Guantanamo Bay," Trump said.
Trump's opening tone was uncharacteristically conciliatory, although it bridged no compromise on his drive to reduce immigration – which he painted as responsible for a plethora of social ills. Trump's State of the Union was the third longest on record at one hour twenty minutes.
Among those looking on were dozens of cross-armed Democratic lawmakers, some decked in black to honor the victims of sexual harassment and still others wearing butterfly stickers in support of immigrants – two social issues that more than any others have roiled America in the age of Trump.