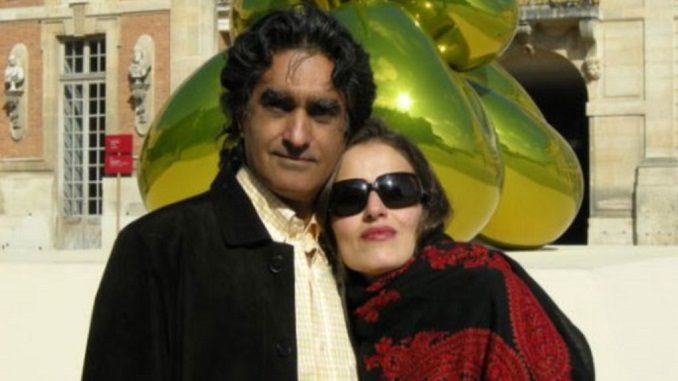 Iran has sentenced an Iranian-American art dealer and his wife to prison for being Zoroastrians, under a little-used law that can target dual nationals, a New York-based human rights group said Wednesday. It is the latest case in which Tehran has imprisoned people of Iranian descent who hold dual citizenship and those with ties to the West after its nuclear deal with world powers, The New York Times reports.
Zoroastrianism is a pre-Islamic ancient religion in Iran that is in theory protected under the Iranian Constitution. However, its adherents can face discrimination in Iran, whose government is overseen by Shiite clerics.
The art dealer, Karan Vafadari, was sentenced to 27 years in prison, while his Iranian wife, Afarin Neyssar, who has permanent residency status in the United States, received a 16-year sentence, said the group, the Center for Human Rights in Iran.
The sentences have yet to be reported in Iran. Iran's mission to the United Nations did not immediately respond to a request for comment. The two were arrested by Iran's paramilitary Islamic Revolutionary Guards Corps in July 2016. Little information has come out about their case since then.
Early Wednesday, the Center for Human Rights in Iran said it had received a letter dated Jan. 21 that Mr. Vafadari wrote to it from Evin Prison in Tehran. In it, Vafadari said he was sentenced "last week" to prison by Judge Abolghassem Salavati of Tehran's hard-line Revolutionary Court and also fined $243,000. Salavati is known for his tough sentences and has heard other politically charged cases, including one in which he sentenced Washington Post journalist Jason Rezaian to prison.
Vafadari said he and his wife were sentenced under a law allowing for properties of dual nationals to be seized and sold at auction. He said his work in the art world "raised the suspicions" of the Guard's intelligence unit.
"The court has granted me the honor of being the first Iranian to be convicted under Article 989 of the Civil Penal Code… It means my wife and me, and every one of you dual national Zoroastrians who returned to your country to invest in the homeland you love are always going to be in danger of losing your assets and being forced to leave the country," wrote Vafadari.
According to Article 989: "In case any Iranian subject acquired foreign nationality after the solar year 1280 (1901-1902) without the observance of the provisions of law, his foreign nationality will be considered null and void and he will be regarded as an Iranian subject. Nevertheless, all his landed properties will be sold under the supervision of the local public prosecutor and the proceeds will be paid to him after the deduction of the expenses of sale."
The law also exempts these dual nationals from running for public office.
"Unfortunately, my international activities [in the art world] raised the suspicions of the IRGC's Intelligence Organization. Fortunately, the initial, baseless security accusations that led to our arrest were dropped, but our gallery, office, warehouses and home remained locked and our cars, computers and documents were confiscated, followed by accusations and interrogations that indicated a deeper plot," added Vafadari.
Vafadari wrote that his sentence, issued at Branch 15 of the Revolutionary Court in Tehran by the notoriously hardline Judge Abolqasem Salavati, includes 124 lashes and a fine of nine billion rials ($243,000 USD).
"Being a dual national is no longer a source of pride but a liability that could lead to your prosecution under the obsolete Article 989," added Vafadari, who lives in Tehran with Neyssari.
Iranian attorney Mahmoud Alizadeh Tabatabaee told CHRI on January 30 that Article 989 only applies to individuals who have renounced their Iranian nationality. Vafadari and Neyssari have not renounced their citizenship.
"In my 25 years of experience I have never encountered a single such case," said Tabatabaee.
Vafadari belongs to a prominent Zoroastrian family known in Tehran for their endowment to the city's Firoozgar Hospital. Recognized in the Constitution, followers of the ancient, pre-Islamic Zoroastrian faith have lived in Iran for thousands of years but are subject to discrimination. In his letter, Vafadari wrote that before he was arrested, he was actively trying to regain some of his family's confiscated assets through the Iranian legal system.
"Despite the chaos in the early days of the [1979] revolution, and even though my mother spent nine months in the same ward I am being kept in now, our family's love for the land of our ancestors' was so strong that they did not leave the country when more than half of our agricultural lands were confiscated in the name of khoms [Islamic tax] and more assets were taken away from us for different reasons," he wrote.
In a letter to Supreme Leader Ali Khamenei dated December 2, 2016, Karan Vafadari's sister, Kateh, noted that the couple had been arrested "to fabricate a case for the purpose of extortion and property seizure." The Islamic Republic has a documented history of unlawfully confiscating private property.
"We should talk about this case and reveal what has happened to Vafadari. His assets have been confiscated. What was his crime? They say they found wine in his home and he was in contact with foreign ambassadors. That cannot be the basis of such a heavy sentence," Koorosh Niknam, a former representative of the Zoroastrian community in Iran's Parliament, told CHRI on January 30, 2018.
Writing about the discrimination suffered by Zoroastrians in Iran, Vafadari pointed to the case of Zoroastrian council member Sepanta Niknam, who was suspended from the city council in the city of Yazd in September 2017 for his faith. Iran's Guardian Council has declared that religious minorities should not be allowed to run for office in Muslim-majority districts. Despite this, one of its members has stated that in some ways, religious minorities in Iran have it better than the country's Muslim-majority population.
Analysts and family members of dual nationals and others detained in Iran have suggested that hard-liners in the Islamic Republic's security agencies use the prisoners as bargaining chips for money or influence. A U.N. panel in September described "an emerging pattern involving the arbitrary deprivation of liberty of dual nationals" in Iran, which Tehran denies.
The U.S. State Department said in a statement it was aware of reports of Vafadari's sentencing.
"The safety and security of U.S. citizens remains a top priority. We call for the immediate release of all U.S. citizens unjustly detained and missing in Iran," it said.
Iran does not recognize dual nationalities, so those detainees cannot receive consular assistance. In most cases, dual nationals have faced secret charges in closed-door hearings before Iran's Revolutionary Court, which handles cases involving alleged attempts to overthrow the government.
Vafadari also criticized Zoroastrian MP Esfandiar Ekhtiari for failing to prevent his prosecution.
"In the end, I should say that if you get entangled in a legal misunderstanding, or if you refuse to 'cooperate' with the authorities and are chosen for a 'hot branding,' in the words of a judicial official, aimed at discouraging others, do not have expectations from anyone, not even Mr. Ekhtiari, the honorable representative of the Zoroastrian community in Parliament. Unfortunately, he is overlooking the violations of my rights as a citizen during the judicial process under interrogation and after," he added.