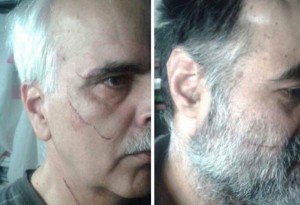 November 30, 2015: Five political prisoners in Rajai Shahr Prison in Karaj began a hunger strike on Sunday, protesting violent attacks against them that were sanctioned by Iranian prison guards.
According to the prisoners, prison authorities orchestrated violent attacks against them, utilizing "two prisoners with a history of violence." These prisoners reportedly threatened a number of the political prisoners with knives and then proceeded to attack the faces of the victims.
Reports indicate that the assailants had the support of the prison management and that guards did not "take any steps to prevent the attacks." The protestors, including Saeed Madani and Fazavai Faqih who pictured with knife wounds to their faces above, are demanding that their attackers be removed from their ward immediately.
Other sources report that telephone lines to Rajai Shahr have been cut off since the incident, preventing families from contacting the prisoners.
In recent years, particularly following the widespread arrests of political prisoners after the 2009 elections, hunger strikes increased among political prisoners looking to protest inhumane treatment carried out by brutal Iranian prison guards.