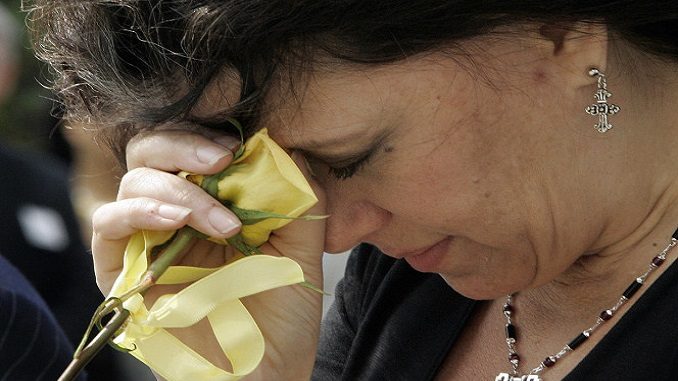 A woman still seeking justice for the 2005 murder of her journalist husband in Iraq is suing the FBI for documents related to the investigation so she can go after the Iranian government, New York Post reports.
Lisa Ramaci is involved in three pending lawsuits against those she says played a role in her husband Steven Vincent's death in Basra, Iraq. Ramaci says she needs the FBI's classified information on Vincent's death to aid her in a civil case against Iran, its central bank and its national oil company.
She made a Freedom of Information Act request in September 2016 but says she's been given the run-around ever since, with the FBI most recently telling her they will turn over two documents she is seeking next May. So she's suing the FBI in Manhattan federal court to get access to 116 pages out of 3,000.
Vincent, 49, was a freelance journalist who was in Iraq in 2005 when he wrote an article about Iranian-sponsored radicals. Just a few days after the article came out, on Aug. 2, Vincent was captured, beaten and shot dead by local police.
In the fall of 2003, freelance writer Steven Vincent traveled to Iraq to "experience the daily realities of life and death in the crossfire of the war on terror," according to a statement on his publisher's Web site. The violence he chronicled — and often condemned — online and in print caught up with him.
He had been abducted along with his Iraqi interpreter, Nour Weidi, an aspiring young poet whom Vincent saw as the representative of a more modern Middle East — was shot and left for dead. Gunmen traveling in a police vehicle seized the two outside a currency exchange, a policeman told the Associated Press.
The New York Times op-ed page published an article by Vincent in which he described the pervasive influence of Shi'ite religious groups in Basra's police force and politics. After Vincent's death was reported, his wife "wondered whether the New York Times piece, or any of his writing, was related to what happened, and I don't think anybody knows," according to David Clark Scott, world editor of the Christian Science Monitor, a newspaper to which Vincent contributed frequently.
The crime remains unsolved, though rogue Iraqi policeman associated with Iranian-backed Shi'ite militias were suspected of targeting Vincent — possibly over a provocative op-ed, "Switched off in Basra," that the freelance journalist had published in The New York Times two days earlier. It warned that British occupation forces were ignoring militias that were infiltrating Basra's police department and terrorizing the local populace with their religious zealotry. The previous January, conservative Shi'ite parties had come to power in local elections.
Vincent, then 49, was the only American journalist murdered during the occupation. Ten years after his death on August 2, 2005, his life and journalistic legacy are worth remembering as the Middle East is engulfed in the chaos that he saw coming.
Ramaci, meanwhile, had not forgotten her husband's pledge. She spent a frustrating 18 months lobbying to bring Nour to America — a process of bureaucratic red tape, phone calls, meetings, and even an appearance before a Senate committee investigating the plight of Iraqi refugees, whose lives were in danger for supporting coalition forces in the hope of creating a more democratic Iraq. Finally, in June 2007, Nour was allowed into the U.S. as a refugee.