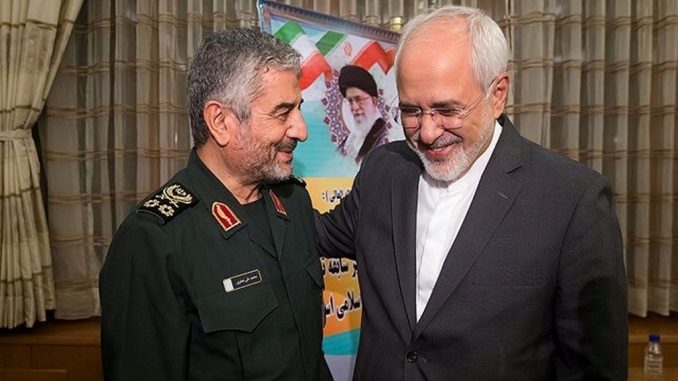 Mohammad Javad Zarif, Iran's foreign minister was quick to respond to the U.S. Secretary of State Rex Tillerson, who called on Iran's Revolutionary Guards and Shi'ite militias in Iraq "to go home" now that ISIS has been defeated.
Zarif defended Iran's involvement in the region and said, these forces have been fighting for "stability and peace," IRNA reported.
"The people of Syria, Iraq and the Kurdish autonomous region were able to resist ISIS with the help of Iran. If it was not for the Defenders of the Shrine, now ISIS would have been entrenched in Damascus, Baghdad and Erbil", Zarif reiterated and claimed.
Hours before Zarif's remarks, Tillerson who was meeting with Saudi officials and the Iraq prime minister called on Iranian forces and its militias "to go home" and let the Iraqi people rebuild their country.
"Iranian militias that are in Iraq, now that the fight against Daesh and ISIS is coming to a close, those militias need to go home. The foreign fighters in Iraq need to go home and allow the Iraqi people to regain control," Tillerson said at a joint news conference with Saudi foreign minister Adel al-Jubeir.
Tillerson trip to Saudi Arabia and the region was partly to neutralize Iran's growing influence, by strengthening Saudi-Iraqi cooperation, among other things. In addition to the dominant role Iran is playing in Syria, it also controls tens of thousands of Shi'ite militiamen in Iraq and is said to wield a lot of influence with the Iraqi government.
Iraqi Kurds bitterly complained that the commander of Iran's Quds force, General Qasem Soleimani travelled to Iraq to strongly warn them not to resist Iraq forces advancing on the disputed city of Kirkuk. They also said that Iranian troops were among Iraqi Shi'ite militiamen attacking to retake Kirkuk from Kurdish forces.