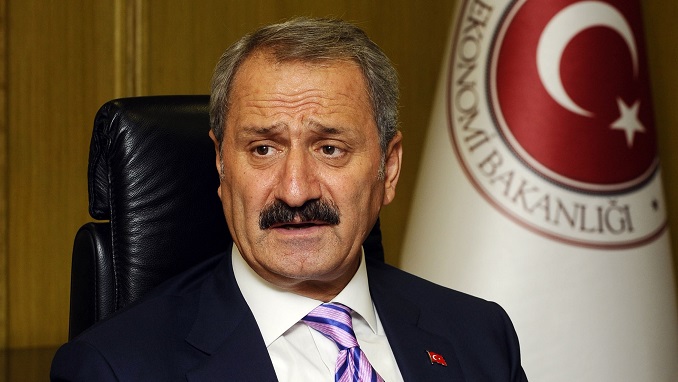 U.S. prosecutors have charged a former Turkish economy minister and the former head of a Turkish state bank with conspiring to evade the U.S. sanctions against Iran, widening an investigation that has fuelled tension between Washington and Ankara, Reuters reports.
The indictment is the first time a former member of the Turkish government with close ties to President Recep Tayyip Erdogan has been charged in the case, which stems from an investigation into a Turkish-Iranian gold trader over sanctions evasion. Erdogan has said that he thinks that U.S. authorities had "ulterior motives" in prosecuting the gold trader, Reza Zarrab, who was detained by U.S. authorities last year.
Prosecutors have charged that Zarrab, a gold trader and dual citizen of Iran and Turkey, and his co-defendants conspired to facilitate millions of dollars in transactions on behalf of Iran and other sanctioned entities through the use of front companies and false documentation.
The most prominent new defendant charged was Mehmet Zafer Caglayan, 59, who served as the Turkish economy minister from 2011 until 2013 and currently serves in the Turkish Parliament, the indictment said.
While Caglayan was a minister, the indictment charged, he "received tens of millions of dollars' worth of bribes in cash and jewelry from the proceeds of the scheme to provide services" to the Iranian government and concealed those services from United States regulators.
The new indictment also said that high-ranking government officials in Iran and Turkey "participated in and protected this scheme," with some officials taking bribes. The new indictment comes at a time of testy relations between Turkey and the United States, which are both members of NATO. Last week, Erdogan denounced another federal indictment — against three of his bodyguards over a brawl in Washington during his visit in May. Twelve other Turkish security officers were charged in that case in June.
The four defendants charged on Wednesday are not in United States custody, prosecutors said. Zarrab has pleaded not guilty. His lawyer, Benjamin Brafman, had no comment.