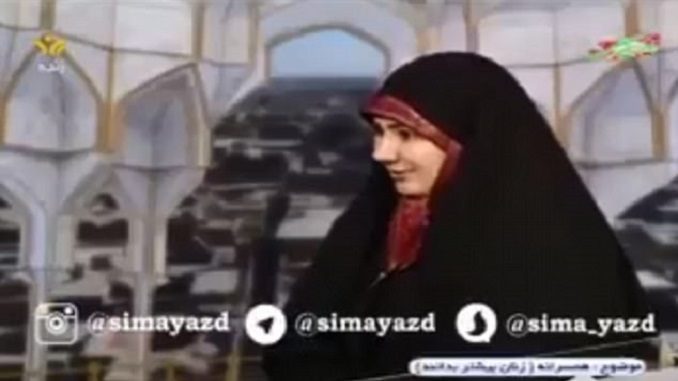 Iranian state TV has apologized after hosting a marriage counselor who told women to kiss their husband's feet even if he beats them. The "expert" advised wives in the Islamic theocracy to put a bucket under their husband's feet while he is resting on the couch on a Friday afternoon, Daily Mail reports.
"Slowly give him a foot massage, then dry his feet, and now this part: Kiss his feet," she said, adding that the demonstration of love will relieve stress, prevent strokes and heart attacks and "charge" a man for a month.
"Even if your husband is a drug addict, if he beats you – just do it and you will see a miracle in your life," she added, according to Radio Free Europe.
The outrageous remarks, broadcast in Yazd province, led to an apology being issued on Tuesday by semi-official news agency ISNA. Officials promised, "planning and greater attention in content delivery" after conceding the "fragmented comments" had led to multiple complaints.
The apology came after many Iranians took to social media to blast the advice. One, Negin Lajevardi, was amazed that the remarks were "so bad" that they forced the broadcaster to make an apology, a rarity in authoritarian Iran. She added that the program was "horrible".
The journalist Isa Saharkhiz – who has previously been imprisoned for his criticism of the Islamic regime – mocked the so-called expert's marriage advice.
"If you want your man to be energized for a month, follow the expert's advice," he wrote, alongside a clip of the broadcast.
Domestic abuse in Iran is quite common and, what's worse, is often recommended. A visiting Islamic preacher from Iran told a Sydney mosque last October it is okay for a husband to beat his wife as long as he doesn't leave any red marks.
Sheikh Taleb al-Khozaei, a Shia cleric aligned with the Iranian theocracy, was a guest lecturer at the Hussainayet Ale Yassin Mosque at Sefton, in Sydney's west. In an Arabic language sermon, he said it was permissible for husbands to lightly beat their wives "as a last resort" if they had been disobedient.
The western Sydney mosque which organized the visit has condemned that sermon promoting domestic violence and has vowed to bar him from returning.
Citing verse 4.34 of the Koran, Sheikh al-Khozaei said husbands could abandon their wives if they had been disobedient.
"He must beat her only enough to bring her back home if she leaves. He must beat her in a way that doesn't turn the skin red or dark," he said in a June sermon that was live streamed.
He then proceeded to explain how husbands could abandon their wives in the bedroom.
"The first method is through advice, the second method is by abandoning them in the bedroom by turning his back towards her at night or sleeping in another place. The woman has honor, therefore by abandoning her you are humiliating her by making her feel that she has made a mistake by not serving her husband's rights," he said.