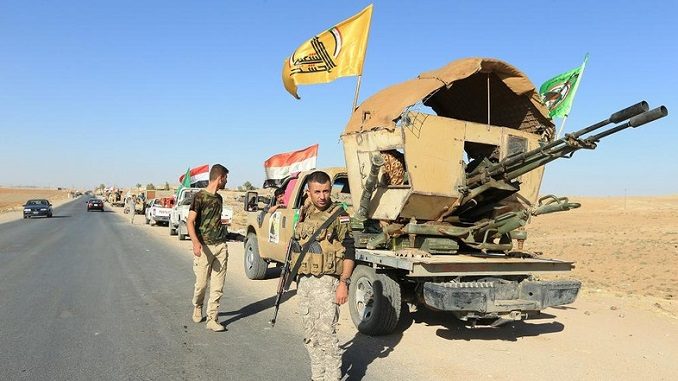 Sources in Ahwaz told Al Arabiya.net that Iran has deployed members of the Iraqi Popular Mobilization forces to suppress the ongoing anti-regime protests. According to sources, they have been deployed alongside Iran's Revolutionary Guards and security forces in the streets of Abadan and Khorramshahr and in Al-Thawra neighborhood in Ahvaz.
Opposition website Amad News said, via one of its Telegram channels, that the Revolutionary Guards also brought thousands of Afghan mercenaries from the Liwa Fatemiyoun who are fighting in Syria and deployed them in the city of Khomeyni Shahr in Isfahan to suppress the protests.
Meanwhile in Ahwaz, there are calls to protest every night. On Wednesday, one person was arrested for distributing pamphlets calling on people to protest and security forces heavily deployed around banks and police stations.
The situation there is calm during the day but at night people are still holding protests. Authorities forced shops in the city's central souq (market) to close at 3:00 p.m. and prohibited anyone from entering it after 3:00. Some sources said security forces were planting mines around military barricades that contain arms' ammunition, particularly in Ahwaz suburbs.
The Revolutionary Guards said in a statement that three members from the Iranian intelligence were killed in clashes in Piranshahr, west of the country, "during a battle with people who oppose the (Khomeini) revolution."
The Democratic Party of Iranian Kurdistan said in a statement that Peshmerga forces who are stationed on the Iranian-Iraqi borders clashed with the Revolutionary Guards in the town of Ziveh, adding that six of the latter were killed. The Iranian Revolutionary Guards confirmed that three of their fighters were killed by "anti-Revolutionary elements" during the clashes and they are now looking for those who caused the deaths in the border areas.
Rostam Jahangiri, a commander of the Democratic Party of Iranian Kurdistan (PDKI), said the clashes happened when a unit of Iranian security forces "attacked" Zewe village in Piranshahr. He claimed that the Iranian unit "humiliated" the villagers and then burned and bombed some homes in Zewe, adding that they also caused damage to the livestock there.
"Responding to the attack, the PDKI's 'Urban Peshmerga' engaged the Iranian security forces," Jahangiri said.
Peshmerga fighters who operate inside Iran close to urban areas are called Urban Peshmerga. Other fighters are stationed in the mountains located inside the Kurdistan Region. Jahangiri, citing local informants, said at least 6 other Iranian security forces were injured in the clashes that ended around 4:20 pm local time. "Iranian security forces have been deployed to the area," he added.
In a statement issued Tuesday, the party said it will deploy Peshmerga forces in Kurdish areas to protect Kurdish protesters who will join the Iranian people's protests.
On Wednesday morning, the regime organized protests in support of it across the country. Most of those who participated are Hawza students, Basij and Revolutionary Guards members and public employees. They chanted slogans in support of the regime and against "those inciting strife."
Supreme Leader Ali Khamenei had accused "enemies" of inciting anti-regime protests and said he will address the nation on recent developments "when the time is right."