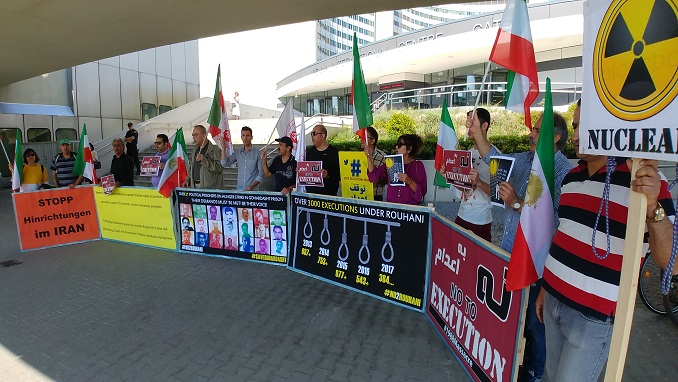 Iranians residing in Vienna held a rally Wednesday against the clerical regime for its nuclear program, its world-leading rate of executions, its export of terrorism, and its ballistic missile program.
Protesters carried a banner that read: "Impose comprehensive sanctions against Iranian regime for torture and execution، export of terrorism, nuclear and missile program."
As well as pointing out that the clerical regime has long maintained the highest per capita rate of executions in the world, protesters stressed that the overall human rights situation have been deteriorating dramatically following the nuclear agreement. There were more than 101 recorded executions in Iran in July 2017, and more than 20 political prisoners are currently on hunger strike in the notorious Gohardasht prison. Amnesty International issued a statement on August 22 expressing concern for the hunger striking political prisoners and demanding immediate action.
The protesters underscored that the Iranian people demand an independent investigation into the massacre of 30,000 political prisoners in 1988. They pointed out that scores of the regime's officials who were responsible for the 1988 massacre currently hold some of the most senior positions. They also argued that indifference by the international community has emboldened the regime. The Iranians stressed that the expulsion of the Revolutionary Guards and their militias from the countries in the region is a prerequisite for ending crises in the region.
Regarding the nuclear projects, the protesters underscored that the clerical regime has never voluntarily exposed any of its sites, main projects and other aspects of its nuclear program to the IAEA. In fact, this only occurred after their revelation by the Iranian opposition, the IAEA, and other sources, leaving Tehran with no other choice but to acknowledge the facts. In the cases of many of the sites disclosed, the regime has allowed the IAEA to visit them after a deliberate delay, subsequent to serious changes that were made to the site.
Iranians said very meticulous and unconditional snap inspections are necessary requirements to prevent the clerical regime obtaining nuclear bombs. Without such inspections, no agreement with this regime can be trusted. They stressed that the claim by the regime that the nuclear program is a subject of national pride is a great lie propagated by Tehran's lobbies and the advocates of an appeasement policy. The Iranian people see the nuclear program against their own interests. In fact, according to the rally, the public welcomed the regime's retreat from the nuclear program, although they also viewed that retreat as being limited by the JCPOA.
The protesters rejected the argument that by putting pressure on the regime for verification, filling the gaps of JCPOA, and implementing it fully would lead to the regime's withdrawal from the JCPOA and ultimately to military confrontation. This they described as a distortion of reality aimed at justifying the current situation and making concessions to the regime.