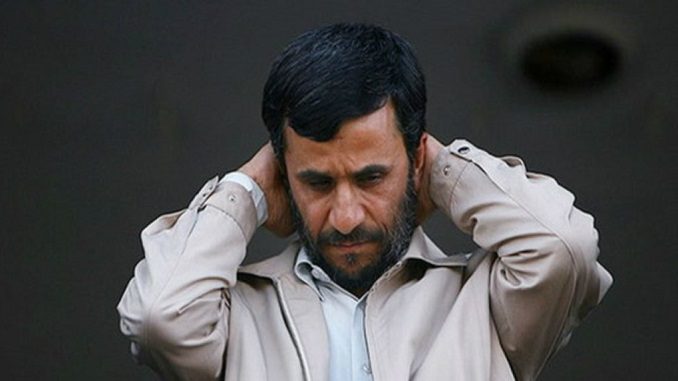 Nearly two weeks after Iranian Parliament's Audit Court announced that former president Mahmoud Ahmadinejad spent $1.3 billion of Iran's oil income "illegally", the deputy head of a conservatives' faction has called for his expulsion from the influential Expediency Discernment Council, EDC.
"As it is proven that Ahmadinejad has violated the law, he must be expelled from EDCS", Member of parliament Gholamali Jafarzadeh Iman Abadi said on Tuesday according to ILNA.
Earlier, on Wednesday, October 18, Iranian parliament's Audit Court had announced Ahmadinejad's violations, ordering him to repay $1.3 billion to the treasury. The ruling accused Ahmadinejad that during his presidency from 2008 to 2013 oil revenues were unlawfully spent without being properly transferred from the oil ministry to the treasury.
Although the court found Ahmadinejad directly responsible for the violation, it did not sentence him.
"As a rule, those responsible for such violations are condemned to lose their governmental positions. Therefore, Ahmadinejad should be expelled from EDC," Imanabadi responded when asked by ILNA what should be done with Ahmadinejad, who obviously cannot repay such an amount.
The Expediency Discernment Council was initially established by the order of the founder of the Islamic Republic, Ayatollah Ruhollah Khomeini in 1987 to resolve disputes and differences between the Guardian Council and parliament.
Members of the EDC are chosen by the Supreme Leader, Ayatollah Ali Khamenei for a five-year term.
During his two consecutive terms as the president, Ahmadinejad accused EDC of "violating the country's Constitution", "disrupting the country's management process" and, as an ex officio member rarely attended its sessions. However, after completing his eight years of presidency in 2013, Ahmadinejad was appointed as a member of EDC by Khamenei's decree, on the grounds of his "priceless efforts" during his presidency.
"When the Supreme Leader appointed Ahmadinejad, the former president's financial mishandling was not revealed. Nevertheless, at the moment, expelling him from EDCS is necessary," Imanabdi explained when asked by ILNA whether "it not be against the Supreme Leader's decision to call for Ahmadinejad's expulsion from EDCS."
However, Ahmadinejad has always insisted that his presidency has been unique in financial transparency and clarity.
He has also dismissed the charges and threatened to divulge a "cowardly scenario" by "bands of power and wealth". Moreover, he has alleged that a "cabal" is waging war against the leading officials of his administration.