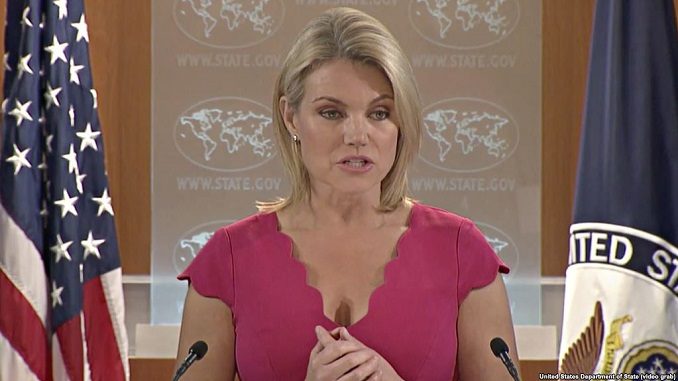 The U.S. State Department confirmed on October 31, that during the U.N. General Assembly in New York, the U.S. made a pitch to Iran for a high-level meeting, Radio Farda reports. The State Department spokesperson, Heather Nauert responded to a direct question if Secretary of State Rex Tillerson had floated the idea of a top-level meeting and Iran had rejected it.
Nauert responded: "Yeah. So I know that that was something that the Secretary had floated. The country – the Iranian officials said no, and that was the end of it."
On October 29, Iran's foreign ministry spokesman Bahram Ghasemi told ILNA that President Hassan Rouhani had turned down a meeting with President Donald Trump, during his trip to the U.N. in September. The following day the White House denied the Iranian claim. Spokesperson Sara Huckabee Sanders in an email to NBC news said that the Iranian claim was not true.
At the State Department briefing on Tuesday, the line of questioning as to whether the U.S. had proposed a meeting – and whether this meeting was meant to be between Trump and Rouhani continued. A reporter asked if Iran was correct in saying that it had rejected an offer for a meeting with President Trump. Nauert answered: "They did."
Rohani and Trump exchanged harsh words during their speeches at the annual UN Assembly. Trump called Iran "a corrupt dictatorship," while Rohani assailed the "rogue newcomers" in the U.S. administration. The U.S. leader has consistently accused the Iranian government of supporting terror and insurgent groups throughout the Middle East. Nauert also responded to questions regarding statement by two Iranian commanders that the Supreme Leader, Ali Khamenei has put a limit of 2000 kilometers for Iranian ballistic missiles.
"Well, 2,000 kilometers is actually pretty far. That would certainly put other countries that are allies of ours in the range", Nauert said and added, "Those Iranian-made rockets have too long been used to exacerbate some of the – and inflame conflicts in the region. And as you well know, it's in violation, ballistic missiles are, of the UN Security Council resolutions."