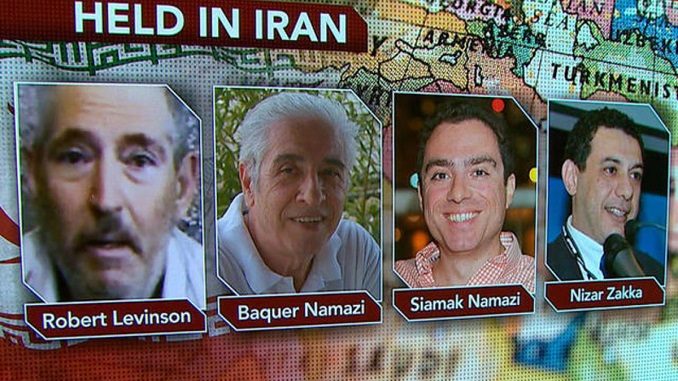 Family members and advocates for a father and son imprisoned in Iran are pressing the Trump administration to take urgent action and set up a separate humanitarian channel with Tehran to specifically negotiate the safe return of the pair, the Free Beacon reports.
Siamak and Baquer Namazi, a father and а son who are citizens of both the United States and Iran, have been held for more than a year and a half in Iran's notorious Evin prison.
While the family members and those assisting them have generally applauded the Trump administration's public statements demanding the return of the Namazis and all Americans unjustly held in Iran, they believe that with 81-year-old Baquer Namazi's health failing, the time has come for more constructive and serious negotiations with Tehran. Babak Namazi, Siamak's brother, and Baquer's son, along with Jared Genser, the Namazi's attorney, are in Washington, D.C. this week for high-level meetings at the White House and State Department.
"Every second that goes by and they are still where they are is a second delayed. My desperation every day is growing exponentially. This is beyond description what my family is going through. We just really hope that this nightmare can end soon," Babak Namazi told reporters Thursday before the White House meeting.
The Namazi family warned the administration in September that Baquer had undergone emergency heart surgery in Iran to install a pacemaker after complaining for months that he was suffering from severe fatigue and disorientation to prison guards. The same month, Trump delivered a speech to the UN in which he demanded that Iran free all Americans, as well as those from other countries, whom the regime is holding captive on false charges.
The previous day the UN Working Group on Arbitrary Detention issued an opinion declaring that the Namazis are being held illegally and demanding their immediate release. At a sideline meeting with Iranian President Hassan Rouhani that same week, UN Secretary-General Antonio Guterres raised Baquer's case, urging his release on humanitarian grounds.
Just this week, the Senate adopted a resolution demanding the release of all American citizen hostages and legal permanent residents illegally detained in Iran and urging Trump to follow through on campaign promises and make their release a top priority.
The Namazis are urging the Trump administration to do more to engage directly with Tehran. They point to Trump's promise at the height of the presidential campaign that he would not tolerate Iran taking Americans prisoner on his watch.
Recently, the Iranians have pushed back, arguing that the United States is holding dozens of its citizens unlawfully and has imposed new sanctions that Tehran argues violate international law. Those calls for the United States to release Iranians has spurred talk of another prisoner exchange like the one the Obama administration negotiated as part of a side deal to the nuclear agreement.
The families of four prisoners detained in Iran said in July that Tehran is using them to extract political and financial concessions from Washington. President Trump issued a sharp warning of "serious consequences" unless Iran releases all prisoners and stops using "hostage-taking as a tool of state policy."
In 2016, Iran did release Americans following the international agreement to freeze its nuclear program, and only in exchange for seven Iranian prisoners. Five U.S. citizens were released from Iran in exchange for the United States freeing seven Iranians who had violated U.S. law. In that deal, the Obama administration paid $1.7 billion, $400 million in cash, on the same day the prisoner swap occurred.