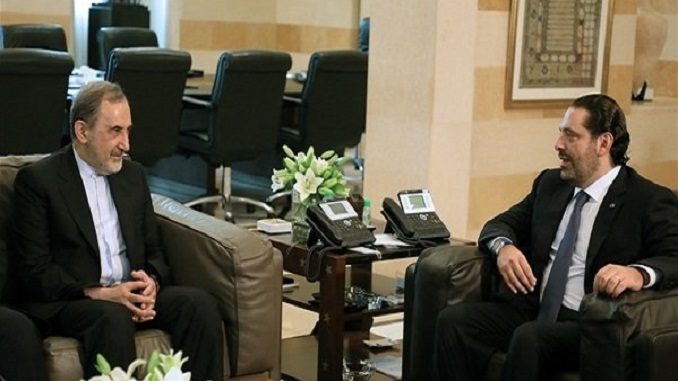 The adviser to the Supreme Leader of Iran, Ali Akbar Velayati met with resigned Lebanese Prime Minister, Saad Hariri, in Beirut last Friday, Al-Arabiya reports quoting a reformist website known to leak what is going on behind the scenes of the Iranian regime.
During the meeting, Velayati threatened Hariri to choose between backing up the strategy of the U.S. administration against Hezbollah, or Lebanon will face chaos and Saad Hariri will meet the fate of his father who was assassinated on February 14th 2005.
According to Amadnews, and in a report titled, "What happened during the meeting between Velayati and Hariri," the website reported that one day after the meeting, the Prime Minister of Lebanon announced his resignation from his office. Hariri stressed that "the current circumstances are very similar to those surrounding the assassination of Rafik Hariri."
The report added that conservative media outlets portrayed Saad Hariri's statements as being the result of pressure exerted by Riyadh on him, while "the truth is still out there" and that "Ali Akbar Velayati threatened Saad Hariri at the end of the meeting after the latter refused to bow to Iranian guardianship and stand against Trump's strategy".
Velayati asked Hariri to stand before the media and declare his full support for the Hezbollah group because it is resisting the Zionist entity. Hariri replied that he could not do so, but at the same time he said nothing against Hezbollah.
Khamenei's advisor then brought in commanders from Hezbollah's security apparatus and asked them to present documents proving that the Lebanese Future Party had provided Western sources with sensitive information that led to the elimination of Hezbollah's field commanders in Syria by Israel.
The Iranian website stated that after examining the document, Hariri informed Velayati that he will not pledge his support to Hezbollah and that he is going to resign. The website continued, saying that Velayati's threat to Hariri was "You will meet the same fate as your father." At that point, Hariri stormed out of the meeting.
Lebanon's Prime Minister Saad Hariri has announced his resignation following a trip to Saudi Arabia. On Saturday he slammed Iran and the Lebanese Hezbollah group for meddling in Arab affairs and says "Iran's arms in the region will be cut off."
Iran's embassy in Beirut issued a statement on Sunday denying the revealed contents of Velayati, Hariri's talks claimed by an informed source.
Following the reports of an informed source revealing that Iranian Leader's top aide for international affairs Ali Akbar Velayati's rejection of the Saudi-dictated demands by Lebanese Prime Minister Saad al-Hariri was the reason behind the latter's resignation, Iran's embassy in Beirut issued a statement on Sunday denying the claims.
The informed source has claimed that Hariri raised the Saudis' demands before Velayati in the meeting, calling on Iran to stop supporting the oppressed Yemeni people and improve ties with the Persian Gulf Cooperation Council.