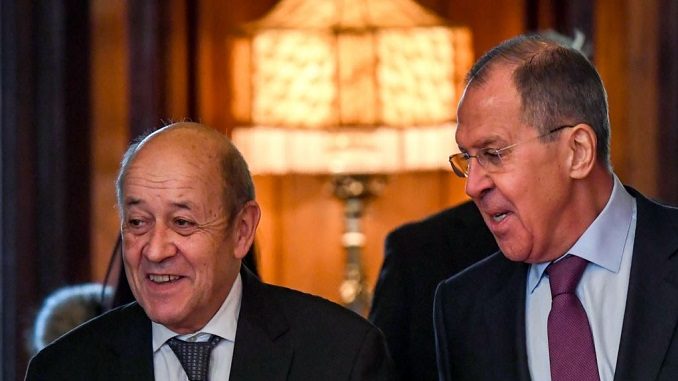 French Foreign Minister Jean-Yves Le Drian has said Iran's ballistic-missile program is very worrying, and that it's necessary to avoid it becoming a factor that threatens the country's neighbors, Radio Farda reports.
"There is a risk, and everything possible needs to be done to avoid this risk and take the necessary measures so that this ballistic threat is not such for all regional actors. This could really undermine the security system in this region," Le Drian said in Moscow on February 27 at a joint news conference with his Russian counterpart, Sergei Lavrov.
The French minister said he would bring up the matter when he visited Tehran next week, and added, "We should maintain an open dialogue, talk about our disagreements."
Both Le Drian and Lavrov reiterated support for the 2015 nuclear accord signed by Tehran and six world powers. The deal, signed by Iran with the United States, Britain, France, Germany, China, and Russia, put limits on Iran's nuclear program in return for the easing of economic sanctions against the country.
French Foreign Minister will visit Iran next week, British Broadcasting Corporation quoted an informed source as saying. The trip was scheduled to take place in January 2018 but it was postponed for some reasons, the report added.
In the course of his visit to Iran, French Foreign Minister Le Drian will inaugurate an exhibition dubbed "Louvre Museum in Tehran-Treasures of French National Collections" as well. Concurrent with the organizing Louver Exhibition in Tehran, it is supposed that an exhibition of Iranian artistic works during Qajar era would be held in France as well, the report added. This prestigious exhibition would begin in the beginning days of the next Iranian calendar year in 1397 (to start March 21, 2018), entitled "Empire of Red Flowers, Masterpieces of 19th Century Iranian Art".
The trip of Jean Yves Le Drian to Tehran is the third visit of a French foreign minister to Iran since the implementation of Joint Comprehensive Plan of Action (JCPOA), the report concluded.
"Paris supports full implementation of the Iranian nuclear deal. As for Vienna Agreement, France's position is very clear, Paris support the full implementation of the agreement," Le Drian said after talks with his Russian counterpart Sergey Lavrov.
It would be extremely dangerous to revise the Iran nuclear deal, Russian Foreign Minister Sergei Lavrov said. He called for discussing all issues on the basis of consensus and with the participation of Tehran.
"Just like France, we believe it is necessary to fully implement the Joint Comprehensive Plan of Action. If there is a desire to discuss some other issues concerning Iran in this format or in another format, this should be done with Iran's mandatory participation and on the basis of consensus rather than through ultimatums," the Russian Foreign Minister said after talks with his French counterpart Jean-Yves Le Drian.
The Six of international mediators (the USA, China, Russia, France, Great Britain and Germany) and Iran successfully completed the work on the final Agreement on Iran's nuclear program on July 14, 2015 and adopted Joint Comprehensive Plan of Action. The agreement lifted nuclear-related economic sanctions against Iran from the United States, European Union and United Nations Security Council.
The International Atomic Energy Agency (IAEA) says Iran is adhering to the agreement, but U.S. officials accuse Tehran of violating its "spirit," saying it is using its ballistic-missile program to circumvent nuclear restrictions. President Donald Trump has said he wants to work with European allies and Congress to fix what he has called "disastrous flaws" in the accord, and warned that Washington would withdraw from the deal if terms were not strengthened by May.
Iran denies the U.S. allegations, insisting that its nuclear program is strictly for power-generation purposes. Iranian officials also rule out negotiations on the country's missiles program, saying it did not aim to make weapons of mass destruction.