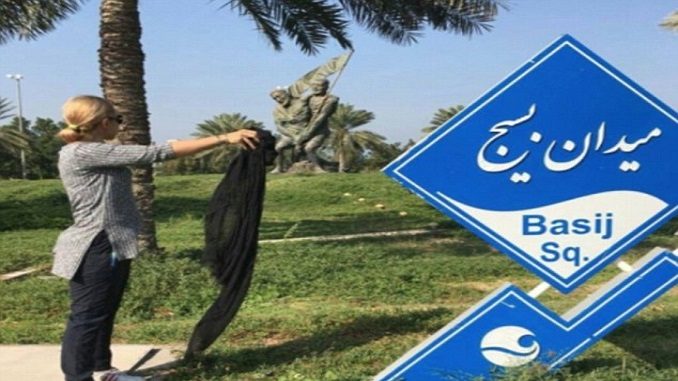 Iran's Interior Ministry chided police for using force against a woman protesting the mandatory headscarf, a rare conciliatory gesture toward women challenging a primary tenet of the Islamic Republic's belief system, Bloomberg reports. The woman, filmed in a widely viewed video posted on Twitter, stood bareheaded on top of a tall box, brandishing her white scarf before passersby. The video then shows a man dressed in a police uniform shoving her to the ground.
"Dealing with infractions should be with full respect of moral and legal rules. No one has a license to act against the law even in the role of an officer dealing with crimes," Interior Ministry spokesman Salman Samani said Sunday, according to the official Islamic Republic News Agency.
His comments are the latest expression of officials' growing sensitivity to undercurrents of discontent in Iranian society since anti-government protests erupted late last year. They also reflect the showdown between Iranian President Hassan Rouhani, who has criticized strict social norms and the policing of Iranian youth, and some hardline opponents who argue that easing lifestyle rules could erode the foundations of a pious society.
Since the 1979 revolution that brought Muslim clerics to power, women in Iran have been required to cover themselves in public with headscarves and coats. Although women's clothing has become more fashionable and colorful over the years, public opposition to a state-mandated dress code has grown. The brandishing of headgear on busy streets and capturing the act on video for social media is a new form of protest that's gained momentum in recent weeks.
"The women of our country are flowing like a river, do not throw them down, do not put them in jail. They haven't committed a crime, they want the decision on their clothing to be ceded to them," prominent human rights lawyer Nasrin Sotoudeh wrote on her Facebook page on Thursday after the video was posted on social media.
The reactions came after a video showing an Iranian policeman shoving a woman protesting against mandatory headscarves off her makeshift podium in a busy Tehran street was widely criticized by social media users.
According to the news agencies, the video was probably shot on Enghelab Street. That is the same street where a woman was detained in December after standing with her head uncovered, waving a scarf on a stick. Many Iranian women have since then published photos of themselves in the street or parks, their heads uncovered, waving their scarves in an act of defiance.
The latest footage shows that the woman was standing on a street cabinet with her arms raised in the air, her long blond hair worn in a high pony tail. Two policemen asked her to get down, but she replied them: "Tell me what my offence is and I'll get down." Then one policeman told her that she was disturbing public order. Afterwards, a crowd forms and starts clapping. The second part of the video shows how one policeman steps up to the same height as the woman and pushes her off the podium.
"Where are the human rights?" a male voice then asks.
According to lawyer and human rights activist Nasrin Sotoudeh, the policeman broke the law because, as he says, "no man has the right to treat a woman like this."
Twitter users were also angry. Some of them tweeted that "breaking the law while in law enforcement uniform is the problem in Iran," while others wrote that "the same police force that makes the girl fall over in Enghelab Street is the one responsible for ensuring the security and viability of the elections."
The latest video comes a day after footage showed another protester, Shaparak Shajarizadeh standing on a traffic island in the Iranian capital Tehran and waving her headscarf around on the end of a stick, Daily Mail informed. Since December around 30 women have been arrested in Tehran for defying a requirement under Iran's Islamic legal code to wear a headscarf.