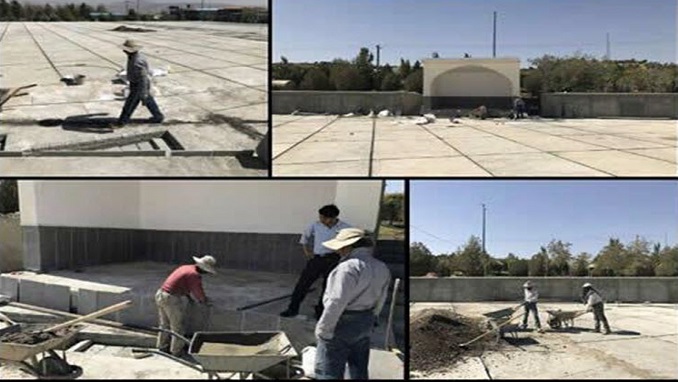 While hundreds of international figures and lawyers have called for a trial of the regime's leaders and the perpetrators of the massacre of members and sympathizers of People's Mojahedin Organization of Iran (PMOI/MEK) in 1988, the Iran regime is trying to destroy the graves of MEK martyrs killed in this crime, Track Persia reports.
According to the reports from various parts of Iran, the regime has been eliminating the signs of this MEK genocide in several cities including Ahvaz (southwestern Iran), Mashhad (northeast), Isfahan (center of Iran), Tabriz and Ardabil (northwestern), etc. They seek to destroy the mass graves of MEK members so that the families could not pay tribute to their loved ones the way they have been doing for years in various ways such as cementing the graves or removing the garbage and so on.
At Vadi-e Rahmat Cemetery of Tabriz graves were destroyed under the pretext of carrying out construction projects. Supporters of the MEK posted photos and videos of the destruction on several places on the internet, including the Telegram Channel on September 11th, 2017.
The project was done under the supervision of Tabriz Civil Engineering Department, and the Cemetery Organization of Tabriz Municipality is the employer. The construction covers an area of 4500 square meters, total. The satellite TV channel of the Iranian resistance, 'Simay Azadi' released photos and videos on the destruction of graves.
During the past few days the mullahs' regime in the city of Tabriz, northwest Iran, has begun a campaign of vandalizing graves of members of the PMOI/MEK executed back in the 1980s, especially those massacred during the summer of 1988.
Iranian intelligence has supervised measures placing 10 centimeters of cement and leveling the grounds in the cemetery to destroy all evidence of such a martyrs' cemetery. Last month in Mashhad, northeast Iran, mass graves of PMOI/MEK martyrs in the Beheshte Reza cemetery were also vandalized.
In the city of Ahvaz, city authorities have been widening a road near a cemetery in order to vandalize martyrs' graves. Signs of tumbled bodies in a mass grave previously covered with cement were seen as the digging began in the area. Authorities quickly covered the mass grave with dirt and continued to widen the road.
The Iranian Resistance calls on all international human rights organizations, especially the United Nations High Commissioner for Human Rights and the Special Rapporteur of the Human Rights Situation in Iran to condemn this inhumane act and take urgent action to prevent the destruction of such evidence of previous mass executions and massacre of political prisoners.