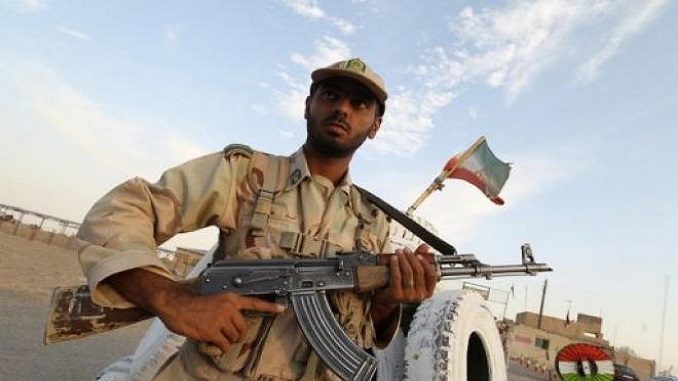 Members of the elite Iranian Revolutionary Guard have detained several suspects allegedly linked to the Islamic State group, an Iranian semi-official news agency reports. According to the agency, the suspects were detained in the country's northwest.
The Fars news agency reported that the Guard members clashed with 21 fighters suspected of being linked to Daesh. The fighters entered the country through its western border. The report did not elaborate, according to Associated Press.
Previously, Iran's intelligence agency claimed to have seized a large amount of ammunition and explosives allegedly brought into the country by its regional rival Saudi Arabia and Kurdish "separatist" groups to carry out "terrorist" acts, Rudaw informed.
"Security intelligence personnel were successful in detecting and foiling two large shipments of explosives and ammunition that were brought into the country to conduct terrorist acts in public places," Iran's Intelligence Ministry stated.
According to the statement, security forces seized 23 explosive devices. The Ministry states that the weapon had been brought into eastern Iran by the intelligence service of Saudi Arabia and the purpose was causing damage and instability in the country.
In another mission, Iran's Intelligence Ministry stated they seized TNT, C4, explosives, grenades, rocket-propelled grenades, and Kalashnikovs from a group based in the Kurdish city of Mariwan, near the border with the Kurdistan Region. The ministry described the group as "separatists."
"The elements of these groups entered the country from Iraqi Kurdistan to cause damage and carry out explosions," the Ministry said. The Kurdish groups have not commented on the events.
Security of the border between Iran and the Kurdistan Region is a concern for Tehran and Iranian officials raised it during KRG Prime Minister Nechirvan Barzani's visit. Ali Shamkhani, an Iranian national security adviser, told Barzani that the security of Iran is a "red line" that must not be crossed.
He emphasized that it is not acceptable for Kurdish groups opposed to Iran to feel safe in the Kurdistan Region as they carry out cross-border attacks on Iranian security forces. At the same time, Barzani reassured Iran that they respect the security of all neighboring countries and understand and respect Iran's expectations with regard to border security.