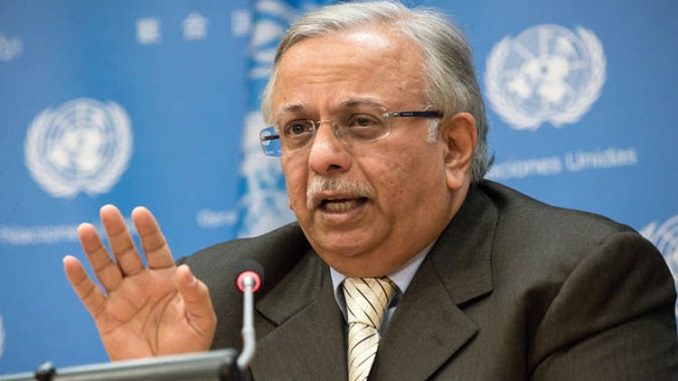 Abdallah Al-Mouallimi, a Saudi ambassador to the United Nations, urged the UN to take a firm stance on Iran and show that the international community would not tolerate the terrorist practices destabilizing international and regional peace, Arab News reports.
"It is also time to deal seriously with Hezbollah and detect its terrorist operations in Syria, Lebanon and other parts of the world," he said.
Al-Mouallimi warned that Iran continued to blatantly interfere in the internal affairs of Arab countries, including Iraq, Syria, Lebanon, and Yemen. He added that the Islamic Republic is spreading and supporting terrorism and is the main supporter of the terrorist Hezbollah group. According to the ambassador, Iran also and supported the Houthi rebels in Yemen, smuggling missiles that were targeted against Saudi Arabia. About 90 missiles had been launched against Saudi cities.
"All missiles launched on my country were proved in UN independent reports to be manufactured by Iran. These acts are clear and explicit violations of the Security Council resolutions," Al-Mouallimi emphasized.
While speaking about the Syrian crisis, the Al-Mouallimi said the suffering in Syria would continue while the country's ruling regime, backed by Iran's military and Hezbollah terrorist forces, worked to destroy the Syrian people.
The ambassador used the opportunity to talk about Jerusalem. He said that Jerusalem should be an oasis of peace, coexistence, and love. According to him, previous resolutions of the UN confirmed that all Israeli measures toward Jerusalem were a violation of law, norms, and morality.
"The Kingdom of Saudi Arabia affirms that any measure taken by the Israeli occupation in Jerusalem is void and ineffectual. Such actions fuel tension in the region and the Middle East, undermine the peace process and weaken the opportunities of reaching a comprehensive, lasting and just solution based on the two-state solution and establishment of the Palestinian independent state based on borders of June 1967 with Jerusalem as its capital," Al-Mouallimi said.