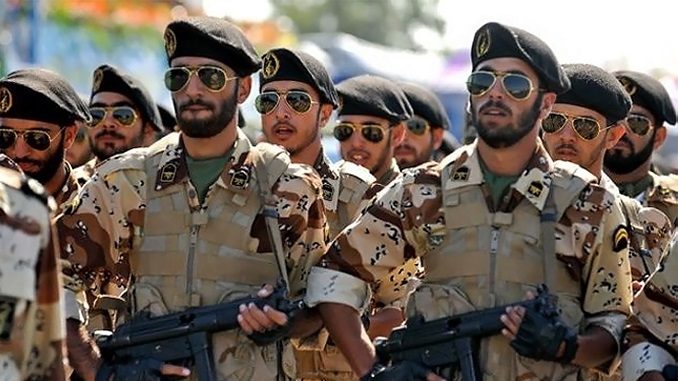 Following the 1979 Islamic Revolution, Iran's relations with Europe mostly remained intact at the economic and at times political level, Al Monitor reports. But in terms of military cooperation, there were almost no ties whatsoever. However, the signing of the Joint Comprehensive Plan of Action (JCPOA) in 2015 created an environment that encouraged Tehran to also push for military cooperation with its European counterparts.
Looking back, there have been very few instances in history when the two sides have actually engaged in military cooperation. On the contrary, the Europeans imposed an arms embargo on Tehran when the Iran-Iraq War began in 1980. It is for this very reason that the idea of Tehran and Brussels working together at the military level has seemed taboo in the past decades.
One example of a rare case when the two sides engaged in military partnership was in 2005, when the National Iranian Police Organization bought 800 HS50 sniper rifles from Austria in an 8 million British pound order. The deal was in aid of Iran's war on drug trafficking from neighboring Afghanistan, when former Reformist President Mohammad Khatami was in office and the country enjoyed warmer relations with Europe. The United States did not approve of this partnership and showed a harsh response, threatening to sanction companies that sold any form of military equipment to Iran.
When Mahmoud Ahmadinejad became president in 2005, not only was there no military or political cooperation with Europe, but all economic ties with the West also came to a near halt.
Upon taking office in 2013, the administration of President Hassan Rouhani sought to change this trajectory by promising to resolve the nuclear issue, which had turned into a security matter. The signing of the JCPOA allowed Iran to present itself as a provider of security in the region by seeking to expand its ties with all world countries, and especially those in Europe.
In an interview with Khabar Online in February 2016, Foreign Minister Mohammad Javad Zarif explained, "If Iran can present itself as a producer [and not consumer] of security in the region, the cost of implementing hostile measures against it [Iran] will significantly increase."
Of course, achieving this goal is not an easy task. One approach could be to find ways of developing military ties with European countries, especially those that already enjoy better economic relations with Tehran. It was perhaps with this in mind that Iran has turned its focus to countries such as Italy.
While visiting Tehran in September 2016, a high-ranking Italian military delegation met with Iranian Navy Commander Rear Adm. Habibollah Sayyari to discuss the development of ties. Later the same month, the Italian navy frigate Euro docked in the southern Iranian port of Bandar Abbas to stage a joint military drill. The exercise was held in the strategic Strait of Hormuz on Sept. 27 that year.
Only weeks afterward, on Oct. 17, Sayyari attended the 11th Venice Regional Seapower Symposium for the Navies of the Mediterranean and Black Sea Countries in Italy. The Iranian commander attended the gathering as a special guest at the official invitation of Italian navy officials. His visit marked the first trip by an Iranian military commander to a European country since 1979. After addressing the gathering on Oct. 18, Sayyari met with several foreign navy officials from Spain, Portugal, Greece, Bulgaria and Croatia on the sidelines of the symposium to discuss military cooperation. Commenting on his meetings in Italy, Sayyari said:
"The talks at this symposium were very global in nature. We discussed the establishment of security in international waters. We also held official meetings with the navy commanders of seven countries. Many of these countries expressed interest in expanding relations with Iran in terms of preservation, restoration and the development of equipment as well as in staging joint exercises. We also exchanged our experiences in the area during the war with Iraq."
Mahdi Bakhtiari, an Iranian military expert, told Al-Monitor that Iran and Europe did have military cooperation in the past, but this was basically halted under US pressure.
"For example, to build ships, we reached and even signed an agreement to import engines from Germany. However, they refrained from giving the engines to us. The current obstacle toward military cooperation between Iran and Europe are UN Security Council resolutions. This is while Iran welcomes the expansion of military cooperation with Europe,"
However, achieving this goal seems very challenging, especially given Europe's increasing pressures on Iran over its ballistic missile program. Many European leaders have voiced concern and called for negotiations over the matter, while Tehran has consistently reiterated that its missile program is only for defensive purposes and is non-negotiable.
In this vein, Bakhtiari told Al-Monitor that although the debate over the missiles has added to the already existing challenges, the presence of an Italian warship in Iran was a positive sign.
"This is not to mention that based on official announcements by Iran's navy commander, a naval vessel is to be dispatched from Iran to Italy and even Spain. This will cause Iranian ships to travel to Spain through the Mediterranean Sea and the Atlantic. All of this, and especially the coming and going of frigates to different countries, are all good signs of military relations and particularly between the countries' navies."
It seems that Iran is aware that engaging in military cooperation with leading European powers is not possible at this stage. As such, it has sought out middle-level European countries such as Italy and Spain, which had adopted less politicized stances against Iran during the era when sanctions were imposed over the nuclear program and which also maintained some cooperation with Tehran.