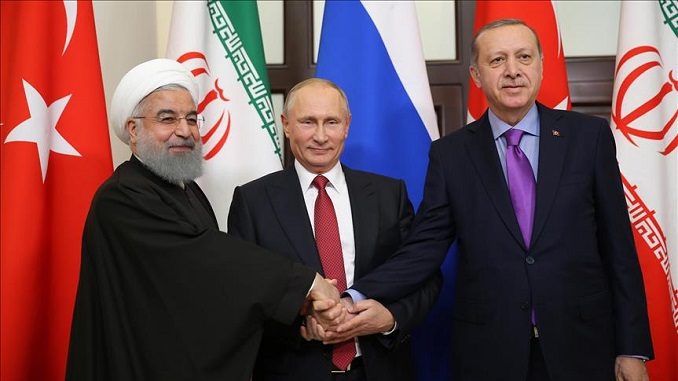 Turkey has been involved in a new diplomatic maneuver on Syria before a set of crucial talks with its NATO ally the U.S. Following an unscheduled security meeting on the evening of Feb. 6, chaired by President Tayyip Erdogan in Ankara, Turkish Foreign Minister Mevlut Cavusoglu flew to Tehran to meet his Iranian counterpart Javad Zarif on Feb. 7 to discuss issues related to Syria.
Turkish officials say the leaders of Turkey, Russia, and Iran will meet in Istanbul to discuss peace efforts for Syria. The officials said that Turkish President Recep Tayyip Erdogan and his Russian counterpart Vladimir Putin agreed to the summit during a telephone call on Thursday, U.S. News reports. It was not immediately clear when the Istanbul meeting would take place.
Turkey on Thursday said it planned to host in Istanbul a new three-way summit on Syria with the presidents of Russia and Iran aimed at reviving a drive to bring peace to the country. The Turkish officials said two leaders also agreed that efforts to create "observation posts" in Syria's Idlib province as part of a "de-escalation" agreement between Turkey, Russia and Iran should gain momentum.
They discussed the humanitarian situation in Eastern Ghouta, just outside Damascus, where dozens have been killed in aerial strikes in the past few days. The officials provided the information on the condition of anonymity in line with government rules.
A Turkish official told AFP the date for the Istanbul summit would be fixed later, without giving an indication when this might be.
Putin and Erdogan agreed to strengthen coordination between the two countries' military and security services in Syria in the fight against terrorism, the Kremlin said in a statement. They also discussed the prospects for new contacts between Russia, Turkey, and Iran on Syria, the statement said.
In its readout of the talks, the Kremlin said Putin and Erdogan "confirmed their commitment to a political settlement" to the Syrian conflict. Turkey says to host Syria summit with Russia, Iran. Turkey on Thursday said it planned to host in Istanbul a new three-way summit on Syria with the presidents of Russia and Iran aimed at reviving a drive to bring peace to the country.
President Recep Tayyip Erdogan and Russian counterpart Vladimir Putin agreed to hold the summit in Istanbul alongside Iranian President Hassan Rouhani in telephone talks Thursday, a Turkish presidential source said. Putin had already hosted a similar summit with his Turkish and Iranian counterparts in the Black Sea resort of Sochi in November.
"The importance of joint Russia-Turkey-Iran work was emphasized and new contacts at different levels would be discussed," it said, without confirming that a leaders' summit would be held in Istanbul.
Kremlin spokesman Dmitry Peskov said a possible summit meeting between the leaders of the three countries was discussed, but no date has been agreed, RIA news agency reported. Some Russian officials have expressed concern about the Turkish offensive but analysts believe it would never have gone ahead without at least the tacit assent of Moscow.
The summit, if it takes place, will be the latest example of the increasingly intense contact between Ankara and Moscow over Syria. Russia, along with Iran, is the key backer of Syrian President Bashar al-Assad and Moscow's military intervention inside Syria is widely seen as tipping the balance in the conflict.
Meanwhile, Iran's President Hassan Rouhani has discussed the war in Syria with visiting Turkish Foreign Minister Mevlut Cavusoglu and offered Iranian assistance in helping allay Turkey's concerns about Syria's future. Turkish Foreign Minister Mevlut Cavusoglu met Iranian president Hassan Rouhani in Tehran on Wednesday amidst rising tension over Syria.
The state-run IRNA news agency cited Rouhani as telling Cavusoglu during their meeting on Wednesday that "fortunately, the tripartite relations between Iran, Turkey, and Russia today are very important in regional affairs" and urged for "further consultation and cooperation" to "resolve the Syrian crisis."
Tehran and Ankara are on opposite sides in Syria's conflict — Turkey backs the rebels fighting against Syrian President Bashar Assad's forces while Iran is a top Assad ally.
"Under the current circumstances, more consultation and cooperation is needed to resolve the Syria crisis. We must try and act so that no country in the region feels threatened by its neighbors," Rouhani said, indirectly referring to Turkey's military offensive against a U.S.-backed Syrian Kurdish militia in northern Syria.
All this is taking place ahead of an expected visit to Turkey by H.R. McMaster, the National Security Adviser to U.S. President Donald Trump, this weekend to talk about problems between Ankara and Washington. McMaster will meet with Erdogan's chief foreign policy adviser and spokesman İbrahim Kalın, as well as possible with other Turkish officials. There is also a visit to Turkey currently in sight from U.S. Secretary of State Rex Tillerson, though no date has yet been announced.
The U.S. administration is worried about the possibility of unwanted clashes between soldiers of the two countries in the Syrian town of Manbij following Turkey's ongoing military operation in the Syrian district of Afrin. Both are currently held by the People's Protection Units (YPG), the Syrian branch of the outlawed Kurdistan Workers' Party (PKK), which is designated as a terrorist group by both Ankara and Washington.
The U.S. has been using the YPG as its ground units against the Islamic State, despite Turkey's continued objections.
The visits were confirmed by officials after a statement by Turkish government spokesman Bekir Bozdağ, who said Turkish troops would not hesitate to fire on "people in YPG outfits," without considering whether they may be U.S. soldiers in disguise.
Earlier this week, Iran urged Turkey to stop its military offensive in Syria, saying the operation in the northern Afrin region breached Syrian sovereignty and would increase tension in the war-damaged country. Iran is the latest country to add its voice to growing calls for Turkey to curtail its military operation in Syria against a Syrian Kurdish militia. Turkey-Iran relations have recently improved, but Tehran is seen to be increasingly concerned about the lack of clarity on the scope and duration of the Turkish military operation and Ankara's goals.
"We wish for Turkey's operation in Syria to end at the earliest time," Iranian President Hassan Rouhani told reporters Tuesday.
Until now, Iran had remained largely silent about the Turkish offensive against the YPG militia. Turkish forces supported by Syrian rebels entered the YPG-controlled Syrian enclave of Afrin nearly four weeks ago. Ankara accuses the YPG of being terrorists linked to a Kurdish insurgency inside Turkey.