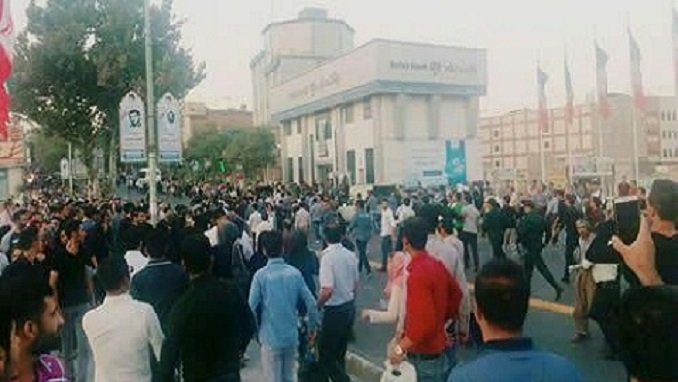 People of Sanandaj demonstrated on Thursday, September 7, 2017, to express solidarity with the Baneh uprising which has been going on for past 3 days protesting the killing of two Kurdish young load carrier by border guards earlier this week. Residents of a number of other cities including Saqhez, Oshnavia, Sardasht, and Naghade have expressed solidarity with the people of Baneh and their uprising against the shooting death of two laborers.
They demanded that border guards involved in that shooting be prosecuted and that the shooting and harassment of load-carriers be stopped. Residents of Baneh clashed with the guards after being confronted by the security forces trying to stop them from demonstrating.
On Tuesday morning, September 5th, the people of Baneh (western Iran) went on strike protesting the murder of two laborers by criminal Revolutionary Guards, and shut down their shops and the whole bazar. Also, this morning, thousands of the people of Baneh held a protest rally. The angry people went to the governorate from different parts of the city and threw rocks at the governor's building. They demanded the killing of laborers to be stopped.