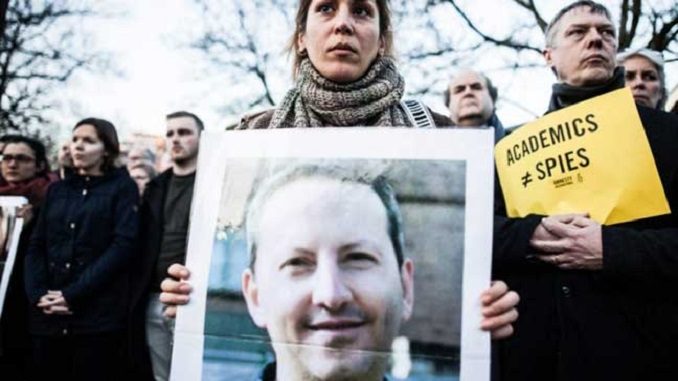 Iran's Supreme Court has upheld the death sentence issued against Iranian-born Swedish resident Ahmadreza Djalali, who has been imprisoned in Tehran since April 2016 after being arrested by the Intelligence Ministry, the Center for Human Rights in Iran reports.
Djalali, a researcher in disaster medicine, was sentenced to death for "moharebeh" (enmity with God) based on a forced confession on October 21, 2017, by Branch 15 of the Revolutionary Court presided by Judge Abolqasem Salavati. Djalai has been accused of spying for Israel. However, in a letter from Evin Prison in Tehran where he is being held, he said he was arrested in April 2016 after refusing to spy for Iran's Intelligence Ministry.
Djalali's wife, Vida Mehrannia, told the Center for Human Rights in Iran (CHRI) that her husband's main lawyer was told the Supreme Court's decision in court on December 5, 2017, but he was denied a physical copy of the ruling. A member of Djalali's defense team, attorney Zeynab Taheri, also confirmed the Supreme Court's ruling to CHRI on December 10.
"Ahmadreza wanted the Supreme Court to review his sentence but the death sentence was upheld very quickly. I again urge [President Hassan] Rouhani and the judiciary to review my husband's case. Don't just rely on the personal views of two interrogators. Don't play with someone's life like this. Ahmadreza has two children who are 5- and 15-years old. My husband wanted to see the ruling to understand why he has been sentenced to death. But his objections got nowhere. This time they have again refused to give him a copy of the ruling. His lawyer was only able to read it inside the courtroom," said Mehrannia.
Human rights group Amnesty International said Tuesday that Iran's courts had "run roughshod over the rule of law" by confirming the death sentence of an academic accused of espionage during nuclear talks with world powers. Since early November, Ahmadreza Djalali's lawyers had repeatedly contacted the Supreme Court to find out which branch his appeal petition had been allocated so they could present their submissions.
The established practice in Iran is for lawyers to be informed of the branch where the appeal will be considered before submitting the relevant documentation and arguments. Ahmadreza Djalali's lawyers said they were consistently told by court clerks that the case has not been allocated for consideration and that they should wait. As a result, the sudden news of the Supreme Court's decision came as a shock.
"This is not only a shocking assault on the right to a fair trial but is also in utter disregard for Ahmadreza Djalali's right to life. It is appalling that the Iranian authorities have deliberately denied Ahmadreza Djalali the right to a meaningful review of his conviction and sentence. The Iranian authorities must immediately quash Ahmadreza Djalali's death sentence, and grant him the right to present a meaningful appeal against his conviction before the highest court. Failing to do so will be an irreversible injustice," said Magdalena Mughrabi, Amnesty International's Deputy Director for the Middle East and North Africa.
Iranian courts have long been accused of issuing politically motivated sentences by human rights advocates. Trials are often held behind closed doors, and may last only a few minutes. Charges, and even verdicts, can be left to public speculation rather than informing defense teams or family. However, the execution of Iranian-Swedish professor Ahmadreza Djalali seems inevitable according to the Free University of Brussels (VUB), where Djalali was a guest professor in the field of disaster medicine.
Djalali's lawyers repeatedly contacted the Supreme Court in order to present their submissions over the past month, but were stonewalled, Amnesty said.
"One of the actions of the convict was revealing the location of and some information on 30 outstanding individuals engaged in military and nuclear research projects," Tehran's prosecutor general Abbas Jafari Dolatabadi said when the sentence was first announced in October.
Jafari Dolatabadi said the information led to the assassination of two Iranian nuclear scientists, Majid Shahriari and Masoud Alimohammadi, killed in bomb blasts in 2010 at the height of tensions over the country's atomic programme. Djalali's lawyers said the evidence in his initial trial was gathered under duress and produced no evidence to substantiate the allegations.
Since Djalali's conviction, 268,000 people have signed petitions in his defense. According to the university, despite the pressure on scientific and diplomatic level by Belgian, Swedish, and Italian politicians, as well as by the head of European diplomacy, Federica Mogherini, Iran "continues to violate the rights of the professor."
Recently, Supreme Leader Ayatollah Ali Khamenei, and Mohammad Ali Jafari, the Commander of the Islamic Revolutionary Guards Corps (IRGC), have issued warnings of "infiltration" attempts by Iran's enemies.
Between 2010 and 2012, five Iranian scientists – four of them involved in the country's nuclear programme – were murdered in bomb and gun attacks in Tehran. The Islamic Republic accused the U.S. and Israel of killing its scientists, including Shahriari, a key member of Iran's Atomic Energy Organisation and Mostafa Ahmadi Roshan, a deputy director of the Natanz nuclear enrichment facility. Western powers and Israel said Iran aimed to build a nuclear bomb. Tehran denied this.
In 2012, Iran executed Majid Jamali Fashi, convicted for working for Mossad and assassinating Alimohammadi. Three others, including nuclear scientist Shahram Amiri, have since been hanged for working for Israel and the U.S.