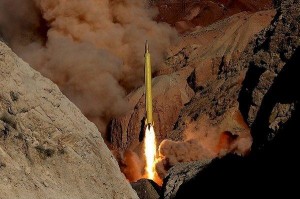 IRGC: "Enemies of the Islamic Revolution and regional security that should be afraid of the IRGC missiles"
March 10, 2016: The Islamic Revolutionary Guard Corps (IRGC) fired two ballistic missiles on Wednesday, as part of a country-wide missile test that began Tuesday. One of the missiles had a grim message written on its side, in Hebrew: "Israel should be wiped off the Earth."
The most recent drills have been dubbed "Might of Velayat" (trans: "Might of the [Iranian Revolution] Rule"); the missiles in question were "Qadr H" ballistic missiles, which can reach 2,000km in as little as twelve minutes. The weapon system can also carry various types of payloads, which lend it the capacity to destroy a wide range of targets.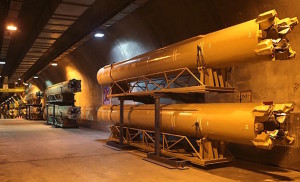 IRGC Commander Major General Mohammad Ali Jafari commented on the test, saying, "It is the enemies of the Islamic Revolution and regional security that should be afraid of the IRGC missiles."
Iran has fervently denied that these missile tests are a violation of the Joint Comprehension Plan of Action (JCPOA), despite allegations from the West that these tests do go against the deal.
"Our enemies have realized that broader sanctions and security pressure have had little impact on our capabilities. That's why they now seek to confine us in the missile field through economic sanctions," Jafari said.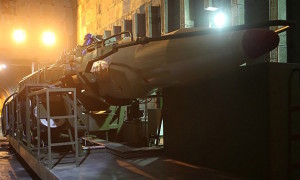 Although Iranian military officials claim that these tests are merely to protect the sovereignty of the Iranian homeland, the message to Israel—painted on the side of the missile for the world to observe—is clear. But it doesn't stop there.
Lieutenant Commander of the IRGC Brigadier General Sossein Salami announced that the terrorist group Hezbollah possesses over 100,000 missiles, all of which are ready to hit enemy targets.
"The Zionist regime will collapse in the near future. When Hezbollah has stockpiled over 100,000 missiles, it means Iran has ten times more than that. Iran is in possession of different classes of missiles, and this power is unstoppable," Salami stated.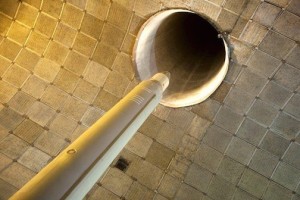 The General's comment speaks for itself. In a move that both blatantly seeks to undermine the integrity of the JCPOA, taunt Western countries with lethal power, and pose a direct military threat to Israel, it is obvious that Iran does not intend to halt its dangerous actions or rhetoric. It remains to be seen how much time will pass before Iran chooses to pass the testing stage and use its dangerous missiles against their intended targets.