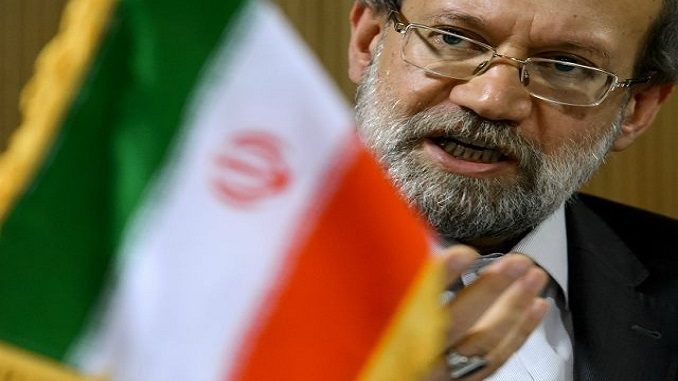 Iran's Parliament (Majlis) Speaker Ali Larijani claimed this week that an alleged reference to "shithole countries" by President Donald Trump, referring to Haiti and some African nations, would usher in "an epoch of modern savagery."
"I was deeply sorrowed to hear that America's president the other day used humiliating language to speak about certain countries. I think this era is leading us to an epoch of modern savagery, in which political language has lost its normalcy and nations are addressed with vile and degrading rhetoric instead of respect," Larijani said on Monday, according to Iran's state-run Press TV.
Larijani reportedly made the comments at the 13th Session of the Parliamentary Union of the member states of the Organization of Islamic Cooperation (PUIC) in Tehran.
Last week, the Washington Post reported that President Trump reportedly questioned whether the United States should accept immigrants from these "shithole countries" in comments to members of Congress.
"Why do we want all these people from Africa here? They're shithole countries… We should have more people from Norway," Trump reportedly said.
The Post did not divulge a recording or proof of the remarks. President Trump has denied using that language:
"The language used by me at the DACA meeting was tough, but this was not the language used. What was really tough was the outlandish proposal made – a big setback for DACA!," Trump tweeted.
The comments drew international condemnation, including from the United Nations, which described them as "racist." Many observers inside the U.S. and elsewhere have also called the American president "racist" for making the insulting utterances. Larijani reportedly said Islamic countries had to censure Trump's remarks "because no president should humiliate a nation, African or otherwise."
The Treasury Department on Friday announced that its Office of Foreign Assets Control (OFAC) designated 14 individuals and entities in connection with serious human rights abuses and censorship in Iran.
Iran has a little-known history of African slavery. Iranian-Canadian scholar Behnaz Mirzai has spent 20 years researching the African diaspora in Iran, including the history and eventual abolition of slavery in her native country. It was a topic that few knew about in the late 1990s when she began her research and one that remains unfamiliar to many today.
"Living in Iran for all my life, we had never heard about slavery in Iran," Mirzai told Middle East Eye from Brock University, where she now works as an associate professor of Middle Eastern history.
Mirzai, whose research focuses primarily on the modern period of slavery in Iran, explained that Gulf-Arab traders – dominated by the Sultanate of Oman, which controlled vast regions bordering the Indian Ocean – brought slaves to Iran from northern and northeastern parts of the African continent, including Tanzania (Zanzibar), Kenya, Ethiopia, and Somalia. Africans were also not the only ones to be enslaved in Iran.
"In Iran, slavery was not based on race and didn't focus only on Africans; Circassians and Georgians were also enslaved, and many Iranians were enslaved. Some slaves also worked alongside Iranian peasants, who were living in a state of extreme poverty," Mirzai said.
The Islamic Republic has also been listed by the State Department as being among dozens of countries with poor human trafficking records.
"Child prostitution has risen 635 percent in the country, and dozens of Iranian girls are brought to Arab countries, Pakistan and Bangladesh to be sold as sex slaves every day. Most of these girls are raped within 24 hours of their departure, according to government officials," one such report reads.