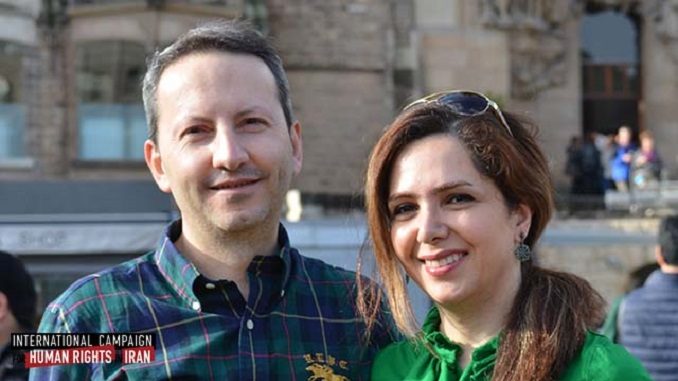 Amnesty International has called on Tehran to immediately reverse the death penalty reportedly imposed on a Swedish-Iranian scholar who has been detained in Iran since April 2016.
"The Iranian authorities must urgently quash the death sentence against Iranian-born Swedish resident and specialist in emergency medicine Ahmadreza Djalali," said Amnesty International today.
Zeynab Taheri, one of Ahmadreza Djalali's lawyers, told Amnesty International that he was sentenced to death on charges charge of "corruption on earth" (ifsad fil-arz), and has been given a 200,000 euro fine. The court verdict states that Ahmadreza Djalali worked with the Israeli government, who subsequently helped him obtain his residency permit in Sweden.
"Ahmadreza Djalali was sentenced to death after a grossly unfair trial that once again exposes not only the Iranian authorities' steadfast commitment to use of the death penalty but their utter contempt for the rule of law. No evidence has ever been presented to show that he is anything other than an academic peacefully pursuing his profession," said Philip Luther, Amnesty International's Research and Advocacy Director for the Middle East and North Africa.
On April 24, 2016, Djalali, who lives in Sweden with his wife and two children, was arrested in Tehran by Intelligence Ministry agents and held for seven months, three of which were in solitary confinement without access to a lawyer in Evin Prison's Ward 209 where he was interrogated.
Even after that period, every lawyer he selected was rejected by the court. Djalali went on hunger strike on February 15, 2017, for almost three weeks to protest being denied a lawyer and being threatened by interrogators with death penalty before his trial.
The sentence, which was issued by Judge Abolqasem Salavati of Branch 15 of the Revolutionary Court on October 21, 2017, for Djalali's alleged collaboration with Israel, will be appealed before the 20-day deadline.
Ahmadreza Djalali, an Iranian-born Swedish resident who has been imprisoned in Iran since April 2016, was sentenced to death for "moharebeh" (enmity with God) based on a forced confession, the Center for Human Rights in Iran (CHRI) has learned.
"On two occasions, Ahmadreza's interrogators forced him to read word for word from a piece of paper and filmed him in his solitary cell.They threatened to harm his children in Sweden if he did not say those words in front of the camera. Ahmadreza signed and read the written statements out of fear. They also added other charges that were never brought up during interrogation. The court also ignored his complaint against his interrogators for fabricating a case against him based on forced confessions," a source close to the Djalali family told CHRI.
In a voice recording that was published on YouTube on 22 October, Ahmadreza Djalali is heard saying that, while in solitary confinement, he was twice forced to make "confessions" in front of a video camera by reading out statements pre-written by his interrogators.
He says that he was put under intense pressure through psychological torture and threats to execute him and arrest his children to "confess" to being a spy for a "hostile government". In the recording, he says that his academic beliefs have been used to convict him and sentence him to death.
He also denies the accusations against him and says they have been fabricated by Ministry of Intelligence interrogators.
Shortly before the sentence was announced, a close contact of Djalali's (who would prefer to remain anonymous) circulated a document that claims to be a literal transcription of a handwritten text produced by Djalali inside Evin prison, where he is being held. The document states that Djalali believes he was arrested for refusing to spy for the Iranian intelligence service.
According to the document, in 2014 two representatives of the Iranian military and intelligence service asked Djalali to spy on European countries for Iran — in particular, on "critical infrastructures, counter-terrorism and CBRNE [chemical, biological, radiological, nuclear and explosives] capabilities, sensitive operational plans, and also research projects, relevant to terrorism and crisis." It says he refused.
The document claims that Djalali was forced to make false confessions following "multiple psychological and physical tortures". "I have never acted against my country, I have never spied for Israel or any other country. My only fault is that I did not accept to use the trust of my colleagues and universities in EU to spy for Iran's intelligence services," the text states.
"At a time when the Iranian authorities are actively strengthening ties with countries in the European Union, it is absurd that they are using Ahmadreza Djalali's academic links to a European country as part of the 'evidence' against him," said Philip Luther.
The Swedish Foreign Ministry said in an statement e-mailed to RFE/RL that it had received "credible reports" indicating that Jalali had been sentenced to death.
"We are seeking to obtain definitive confirmation of this information," the October 23 statement said. "We are urgently raising this issue with Iranian representatives."
Both Amnesty International and the Swedish government have reiterated their opposition to the death penalty "without exception" and "in any forms."