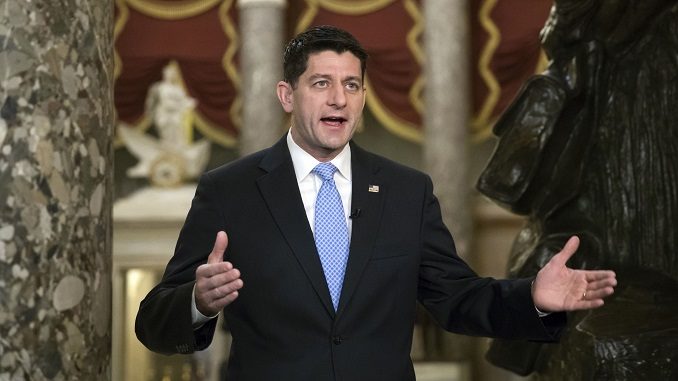 U.S. House of Representatives Speaker Paul Ryan said that Iran's threats to regional states, supplying Houthis with rockets and Tehran actions in Yemen and Syria will be met with more sanctions. According to Ryan, the United States has a similar vision with the UAE and Saudi Arabia regarding the Iranian threats to regional stability, and regarding the need to root out the sources of terrorism, Asharq Al-Awsat reports.
"We are focused on the Iranian threat. This is an existential threat to you, this is an existential threat to Saudi Arabia. And I want you to know that we see this issue the same way you do," he said while speaking at the Emirates Diplomatic Academy.
He also emphasized that his country is taking concrete steps to restrain Iran expansion, including stopping them from establishing "Hezbollah" like organizations in the region. According to the Speaker of the U.S. House of Representatives, protests in Iran show that the regime has turned segments of Iranian society against them. Ryan said that the Congress will not remain silent about the plight of the Iranian people. He also said the U.S. stands with the Iranians and their pursuit of justice, freedom and opportunity.
Ryan added that Iran is seeking to expand its influence in the region at the expense of staunch US allies and needed to be constrained by sanctions.
"Look at their violations of missile testing, look at what they're doing in the region, look at what they're doing in Syria, look at what they're doing in Yemen. There's more that we can do from the economic side. We have the tools we can use along with our allies … that's the discussion we're having about tightening up sanctions and trying to get Europe involved in that," Ryan said.
He also stated that Tehran is more interested in financing terrorism abroad than in achieving development for its people. Ryan emphasized his country's interest in preventing Iran from destabilizing the region and the world.
Meanwhile, Iran's Foreign Minister Mohammad Javad Zarif accused the U.S. and Saudi Arabia of backing Daesh by providing it with weapons.
"No amount of 'alternative facts' by Trump & Co's echo chamber, 'vision of light' spin by KSA, or credit-grabbing by the U.S. for defeat of ISIS will change the facts that: 1. It was Iran who helped the people of Iraq & Syria defeat ISIS, and 2. It was the US and KSA who armed it. Statements made by the White House at the Davos Economic Forum contradict the facts and do not change anything," he stated.