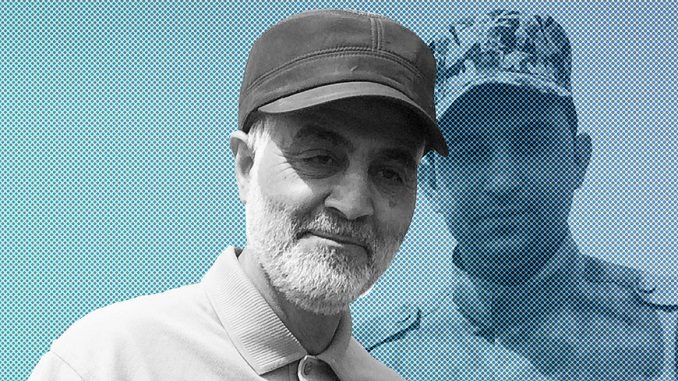 In the aftermath of the U.S. president's recognition of Jerusalem as the capital of Israel, the head of the Quds Force called the leaders of Hamas and Islamic Jihad to affirm Iran's ongoing political and military support, Al-Monitor writes in its analysis.
On Dec. 11, for the first time ever, Major General Qasem Soleimani, the head of Iran's Quds Force, called the leaders of the military wings of Hamas and Palestinian Islamic Jihad to offer military support. Some saw this move as an Iranian message of defiance to the United States and Israel in response to Trump's decision.
Also on Dec. 11, the Beirut-based pan-Arab Al-Mayadeen News reported that in the telephone call, Soleimani stated that all the Arab resistance movements, such as Hezbollah and other groups that emerged during the Syrian war, are prepared to defend Jerusalem and Al-Aqsa Mosque. He expressed Iran's full support for the Palestinian resistance forces.
The call came a few hours before a speech by Hezbollah Secretary-General Hassan Nasrallah urging the axis of resistance to develop a unified strategy to confront Israel. Meanwhile, Hamas political bureau chief Ismail Haniyeh also called Iranian President Hassan Rouhani to discuss Trump's decision. In a statement by Hamas, Haniyeh described the U.S. decision as an act of aggression against the Palestinian people and the Islamic world.
Commenting on these phone conversations with Al-Monitor, Hamas' representative in Iran, Khaled al-Qaddumi, emphasized the ties between the resistance factions and the Iranian Republic. He explained that Soleimani's phone call to military leaders in Gaza comes in the context of an ongoing partnership against the common enemy, Israel.
Qaddumi further asserted that the Iranian people, represented by Supreme Leader Ali Khamenei and Rouhani, reject Trump's decision. Emphasizing Jerusalem's Arab and Muslim identity, he said Iran fears the move will further inflame the Middle East region. In turn, Islamic Jihad leader in Gaza Khader Habib denied news reported by some Israeli media outlets that Soleimani ordered the Palestinian factions to escalate militarily against Israel.
"Iran never ordered resistance activities or interfered in the resistance's field activities," he told Al-Monitor.
Habib noted that the Iranian position comes within its framework of military and political support and encouragement of the Palestinian resistance, emphasizing that Iran shares these factions' opinions and positions on the dangers of Israel to the Arab and Islamic region.
Meanwhile, Mojtaba Rahmandost, an adviser to former Iranian President Mahmoud Ahmadinejad and a professor of Palestinian studies at Tehran University, told Al-Monitor that the Iranian Republic is ready for military action should the United States move its embassy to Jerusalem.
"The Jerusalem decision was not the first major mistake committed by Trump, but it is the most dangerous so far. These contacts made by a prominent figure such as Maj. Gen. Soleimani prove the Iranian military presence in the region and carry several messages. Iran is ready to militarily defend its allies and will not content itself with political reactions," opined Rahmandost.
He expects Iran to increase its financial, military and political support for the Palestinian resistance after the declaration, which he described as a hostile act by the United States and Israel toward Muslims.
On Dec. 13, the Kuwaiti al-Jarida newspaper reported that an unnamed Soleimani adviser said that Soleimani had asked the military leaders of Hamas and Islamic Jihad to start recruiting Palestinian members in the West Bank, as arming the West Bank has become an Iranian priority. The newspaper also reported that with the intent of opening an armed front against Israel, Iran will supply these factions with weapons as soon as they affirm their readiness to receive them and secure places to store them. It also claimed that Soleimani met with Iranian agents in Syria and Lebanon to discuss smuggling arms into Syria and Lebanon and asked them to find ways to deliver high-quality weapons to the Palestinians in the West Bank.
"He sought to assert his support to Palestinians, reassuring them that they do not face the Jerusalem issue alone. He also wanted to say that Iran pays no attention to the fuss Israel is making about the Iranian support for the resistance in the Palestinian territories, Lebanon or Syria. He also sought to embarrass Saudi Arabia and the Arab axis [for] normalizing ties with Israel in front of their people. … Soleimani wanted to assert to Trump that Iran will strengthen the Palestinian resistance in response to his decision," Iranian political analyst Saber Kol Anbari told Al-Monitor.
For his part, retired Palestinian Major General Wasef Erekat told Al-Monitor that by revealing the contacts made by Soleimani, Iran wanted to send messages of defiance in the wake of Trump's decision. He expects Iran to increase its military and political support for the Palestinians in the next stage.
Meanwhile, on Dec. 17, Palestinian President Mahmoud Abbas received an official invitation from Rouhani to visit Iran at the end of this week. Abbas' visit to Tehran, if it happens, could be interpreted as a sign of dissatisfaction by the Palestinian Authority with Saudi Arabia's position on Trump's Jerusalem announcement, in light of some media reports about Saudi Arabia's alleged involvement in the U.S. move.
It should be noted that after Palestinian media outlets reported Iran's invitation to Abbas, Saudi Arabia summoned him urgently on Dec. 17 to discuss Jerusalem with the Saudi leadership.