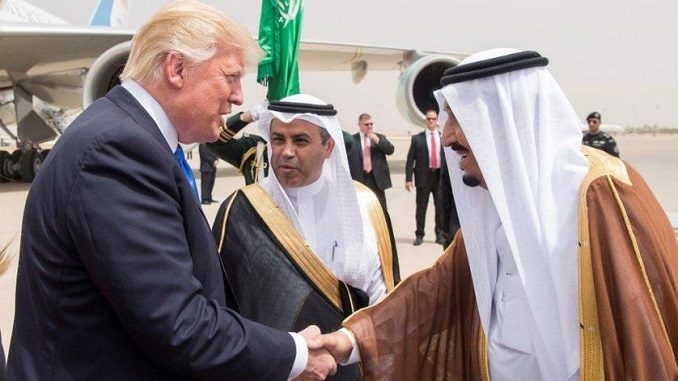 Custodian of the Two Holy Mosques King Salman bin Abdulaziz telephoned on Wednesday U.S. President Donald Trump to discuss the Iranian-backed Houthi militias' firing of a ballistic missile against Riyadh, reported the Saudi Press Agency as quoted by Asharq al-Awsat.
The two leaders stressed that the need to hold Iran accountable for its actions and that the necessary measures be taken to ensure that the relevant United Nations Security Council resolutions are implemented.
Trump condemned the Houthi strike, saying that it was a blatant assault against the Kingdom's sovereignty and that it targeted a residential area. Saudi defense forces intercepted the missile south of the capital. No one was injured in the incident. Trump stressed that the U.S. will stand by Saudi Arabia in confronting threats to its national security.
It's an attack the White House says was "enabled by the Iranian Islamic Revolutionary Guard Corps."
The White House says the leaders "discussed the importance of engaging the United Nations to hold Iran accountable for its repeated violations of international law" during Wednesday's call and "agreed on the importance of reinvigorating a political process to end the war in Yemen."
Furthermore, King Salman and Trump underlined the need to back all humanitarian and relief efforts to ease the suffering of the Yemeni people. The war has killed more than 10,000 civilians and driven millions to the brink of famine.
U.S. President Donald Trump unveiled a new security strategy on Monday, branding Iran a major global threat as his administration officials praised counter-extremism efforts led by Saudi Arabia's Crown Prince Mohammed bin Salman.
Trump's policy blueprint detailed how his America First election campaign agenda translated into a global trade, economic and diplomatic policy that would help the U.S. outpace China, Russia, and other competitors.  In the Middle East, the policy calls for cooperation with U.S. allies to counter the "malign" threat of Iran spreading across the region via the Lebanese militia Hezbollah and other proxy forces.
"Iran, the world's leading state sponsor of terrorism, has taken advantage of instability to expand its influence through partners and proxies, weapon proliferation, and funding. It continues to develop more capable ballistic missiles and intelligence capabilities, and it undertakes malicious cyber activities … Iran continues to perpetuate the cycle of violence in the region, causing grievous harm to civilian populations," the accompanying 68-page policy document goes further.
Though Iran expands its influence across the region, it is vulnerable to setbacks, said an official from Trump's  administration. Tehran's efforts to create a "land bridge" connecting proxy forces in Iraq and Syria to the Mediterranean have been hampered, he said.
"One of the things that's made this land bridge more complicated to establish is that it's not so easy to walk through northern Iraq anymore since our partner forces, with U.S. and coalition support, defeated Daesh, liberated Mosul and have most of that territory under control."