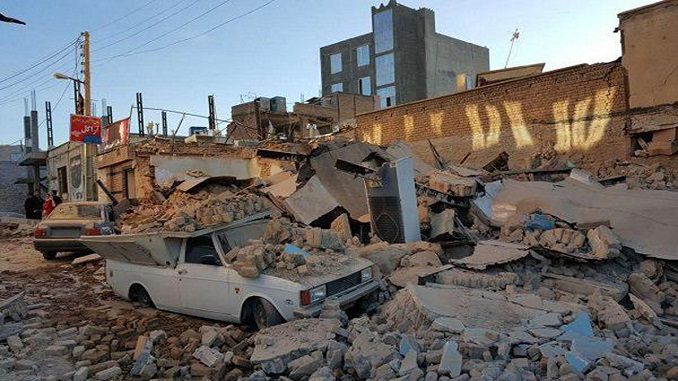 Iranian state TV has reported that a magnitude 4.3 earthquake injured 36 people in the western province of Lorestan. TV reported the depth of the quake a 10 kilometers, The Washington Post writes. Reza Aryaee, an official in the disaster management organization of Lorestan province, said most of the injuries occurred when people rushed to leave their houses. He said most of the injured were discharged after treatment but two have remained hospitalized.
The tremor has shaken the county seven times since yesterday and it has damaged several residential units. Earlier this month, a magnitude 7.3 quake struck along the Iran-Iraq border, killing 530 and injuring more than 9,000. Iran is prone to daily quakes as it sits on many major fault lines. In 2003, a magnitude 6.6 quake with a depth of 7 kilometers (4.3 miles) flattened the historic city of Bam, killing 26,000 people.
More than a week since the fatal 7.3 magnitude earthquake that hit the hard-to-reach mountainous areas of Kermanshah province in Iran, tens of thousands of Kurds cannot return home for fear of aftershocks, despite dire conditions at makeshift camps. Layla Jawhar remembers running for her life the night the quake killed hundreds of people and forced tens of thousands from their homes. She and her family survived when her husband took her and their baby daughter out of the house, an experience that left her in a state of shock for three days. Her fear now is whether her small family will survive the cold.
"People have lost their houses. They have nothing left. I was sleeping last night, feeling like I was going to freeze. We have no lamps, cooking utensils, or electricity," she said, speaking inside a small tent.
The camps have little or no basic services.
"We need hygiene and toilets because our place lacks sanitation.  The place is polluted and because of that, all of our children are sick.  We just need sanitation and heaters. It is winter time and as you know it is going to rain. We need a place that can shelter us from the rain and cold, a place where our children will no longer feel fearful," another displaced woman from Sarol-e Zahab told Rudaw.
The town was the worst-hit by the quake. With many rumours floating about and no immediate reconstruction plans evident, it will take some time before these people can feel over the shock. Meanwhile, the regime's suppressive forces have prevented the arrival of aid to Sarpol-e-Zahab, and have confiscated donations from trucks and vehicles. Most of the aid that is getting to the region comes from individuals, not the regime, Agence France-Presse (AFP) reported.
"No state-run enterprise is helping. People are helping people," said Ayasheh Karami, 60, standing amid the ruins of her house, the LA Times reported. Regime forces are confiscating and selling items such as water, tents and food at a profit. Worse, Tehran is refusing international help for the region.
But the Iranian regime puts its own security and survival before the welfare of the people. Authorities spend much of their time intimidating and executing people, while usurping national wealth and channeling it to the Islamic Revolutionary Guard Corps (IRGC) to pay for terrorist proxies and regional designs.
The dire situation in western Iran is another reminder that the regime does not care about the Iranian people. It also reminds the international community that the people are deeply disgusted and distrustful of the regime, which is seen as plundering national wealth and focusing on its own survival.
It is time that the regime is held to account for its inhumane actions against the people of Iran and the region. Tehran puts terrorism, its nuclear program and executions first. It should be confronted, not engaged.
In the meantime, Iranian Red Crescent Society (IRCS) rejected rumors it sent aid packages meant for quake-hit people in Kermanshah Province to the Syrian city of Albukamal, saying IRCS has focused on the affected people of the western Iranian province. IRCS' twitter account said that humanitarian aid irrespective of religion, race and nationality is admirable, but no aid cargo has been sent to Albukamal.
"All IRCS' consignments bear its emblem and reviewing the films and images will make it clear that there was not such a thing," it said.
Iran is no stranger to earthquakes. More than 26,000 people were killed by one in 2003 in the southeast. In 1990, more than 50,000 died when a 7.4-magnitude quake struck the northwest. That means any government in Iran should by now have the competence and expertise to deal with such recurring disasters.