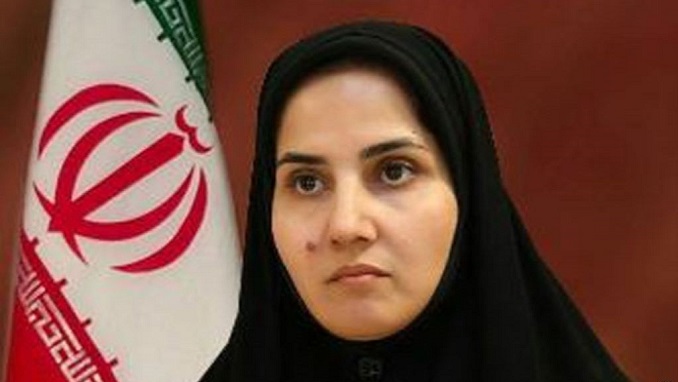 Just a couple of weeks into her appointment, the new Iranian vice president's decision to abandon her fashion style for the all-encompassing black chador is raising questions among women in the Islamic Republic – especially after she said President Hassan Rouhani personally asked her to wear the traditional women's garment.
Although Laaya Joneidi typically used to wear a hijab – the headscarf that is mandated by law in today's Iran – and a long coat with pants, her switch to the more conservative chador serves as a political statement in and of itself in the Islamic Republic.
After Rouhani failed to nominate any women to serve as ministers in his Cabinet, some are questioning the moderate cleric's campaign promise to bring more women into the government.
"Not only could Rouhani not appoint a woman minister, but also he could not appoint a vice president who does not wear the chador either and forced her to wear the chador," tweeted Hamid Mashayekhi Rad, an Islamic seminary student, and activist.
The controversy began when a government website posted a photograph of Joneidi, who earned a doctorate from Harvard in comparative law and international commercial arbitration, wearing the long black chador, exposing only her face. Social media exploded with posts referring to her as a 'chadori.'
The controversy only grew after Joneidi, one of two female vice presidents in Rouhani's new government, gave an interview to the reformist daily newspaper Sharq.
"Mr. Rouhani, because of the protocol of the Cabinet, asked me to wear the chador,"  she told the newspaper. "I respected his demand."
The criticism then found a target in Rouhani, whose re-election campaign promised women spots in his 18-minister Cabinet. The cleric had no women ministers in his first term, and when he announced appointees for his second term, earlier in August, there were again no women among his picks.
The following day, Rouhani named two women as vice presidents, including Joneidi.
"Mr. Rouhani, based on which law or your protocol forced Laaya Joneidi to wear the chador?" tweeted Amene Shirafkan, a journalist who works at Zanan-Emrooz or 'Today's Women' magazine.
The chador controversy underscores the unwritten protocol rules for those in public office and government in Iran – rules that also affect men. Iranian Foreign Minister Mohammed Javad Zarif famously wore a goatee before entering Rouhani's government, but later grew the full beard common for those in power.
The chador has a long history in Iranian politics. The sisters of Shah Reza Pahlavi famously tossed theirs away in public in the 1930s, before it was outlawed. In the 1979 Islamic Revolution, women who took to the streets to rally in support of the clerics embraced the chador. After the revolution installed the clerics in power, the hijab became law.
In theory, women not wearing the chador are to wear baggy clothes and coats as to not accentuate their form.
However, in Tehran today, some fashionable young women wear tighter clothes with a scarf loosely covering their head, technically meeting the requirements of the law while drawing the ire of conservatives. Morality police enforce the government-mandated Islamic dress code, while others have protested the requirement on social media. Women in government find it tougher to resist the demand to wear the chador.
Masoumeh Ebtekar famously gave up her style for a chador when she became a vice president under former President Mohammad Khatami in 1997. In 2000, a lawmaker threatened to beat Elaheh Koulaii, a hijab-wearing lawmaker from Tehran, if she didn't wear a chador. She stood her ground and refused. Soroush Farhadian, a Tehran-based political analyst who backs reformists, says that not wearing a chador remains a taboo in Iranian politics.
"The taboo was broken by Koulaii in the parliament, but it is not broken at the government level yet," Farhadian said.