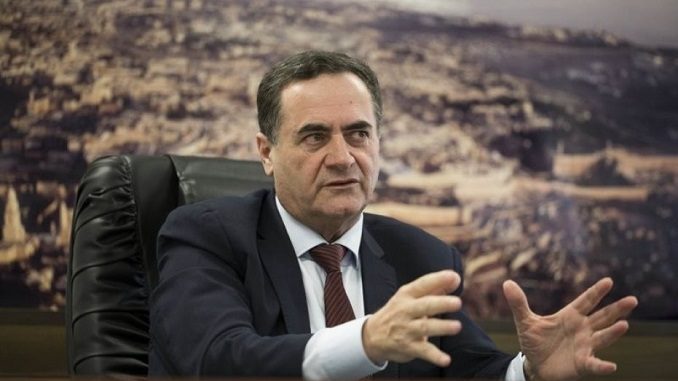 A top Israeli politician said he would form a new "anti-Iran axis," together with Saudi Arabia and other Sunni powers, to counter the Iranian threat in the region, if he succeeds embattled Prime Minister Benjamin Netanyahu, Fox News reports.
Yisrael Katz, Israel's intelligence and transportation minister, an anti-Iran hardliner who also opposes a peace agreement with the Palestinians, claimed economic partnership and shared concerns regarding the Iranian regime could be the basis of a new coalition between his nation and Saudi Arabia.
"Iran is the big enemy. It's very clear we (Israel and Saudi Arabia) are practically on the same side. … All Sunni countries are against Iran. We wish to have a peace agreement in parallel with advancing regional economic development initiatives," Katz told Canada's Globe and Mail, noting that a railway and port network between the countries would create an "anti-Iran axis" in the region.
Both Saudi Arabia and Israel deny having official diplomatic channels, but it is long believed there are unofficial channels between the countries, especially amid an alleged Iranian nuclear program and increasing militarization of the regime.
An unidentified Israeli government source told the publication that Katz has opened a covert channel with the Saudis and even had meetings with the kingdom's officials in the past year. He also communicated his thoughts in meetings with President Donald Trump's special envoy in Israel, Jason Greenblatt.
"I had seven meetings with Jason Greenblatt about these things in Washington about this initiative, about the railway," he told the Globe and Mail. "He is talking with Saudi Arabia, with Jordan with the Palestinians."
In an interview on Wednesday with a London-based Arabic news website owned by a Saudi businessman, Katz also asked the Saudis to take the lead in the peace process and urged them to invite Netanyahu for a state visit.
"I suggest that Saudi Arabia, as the leader of the Arab world, take upon itself this initiative and go to the Palestinians and offer their patronage. They (the Palestinians) are too weak, they need someone to help them. I call on (Saudi) King Salman to invite (Prime Minister Benjamin) Netanyahu for a visit, and for the crown prince to come for a visit here in Israel. He should come, give patronage to and lead the peace initiative with the Palestinians and the U.S.," he said, according to the Jerusalem Post.
At the moment, Katz is considered a rabble-rouser, a right-wing hardliner who often does not mince words. During his time at university he was suspended for a year after participating in violent clashes with Arab students and last year, he called for the "focused civilian elimination" of anti-Israel boycott movement. He had to explain that he did not mean assassinations, the Globe and Mail reported.
In 2016, he drew ire one day after an Islamist terror attack in Belgium, saying that unless Belgian authorities stop "eating chocolate and enjoying life" they will not be able to "fight them," according to the Post.  And yet Katz's ambitious plan to work together with Saudi Arabia and other Sunni states might come into fruition.
"They (the Sunni Arab states) see Israel as the only power than can stand against Iran in the region," he said.