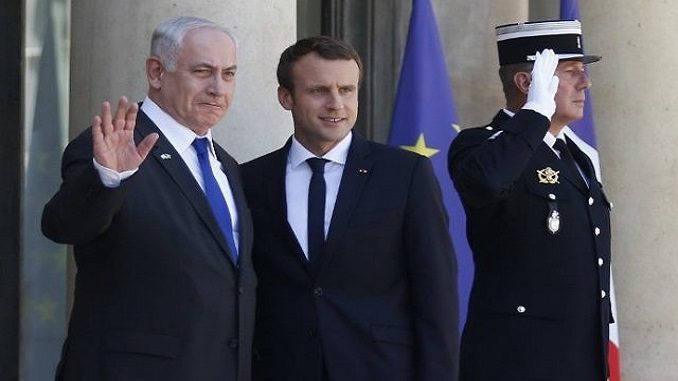 Israel sees Iranian activity in Syria as "a target" for its forces, and may carry out strikes against Iranian objectives if security needs require it, Prime Minister Benjamin Netanyahu reportedly told French President Emmanuel Macron in a phone call this week, Times of Israel reports. Channel 10 reported Wednesday that it had obtained a transcript of Sunday's call.
"Israel has tried up until now not to intervene in what is going on in Syria. But after the victory over Islamic State, the situation has changed because the pro-Iranian forces have taken control. From now on Israel sees Iran's activities in Syria as a target. We will not hesitate to act, if our security needs require us to do so," Netanyahu reportedly warned.
The conversation took place a day after Macron met in Paris with Lebanese Prime Minister Saad Hariri. Macron, seeking to calm regional concerns over Lebanon's leadership crisis, is said to have informed Netanyahu that Hariri planned to officially resign upon returning to Lebanon. The Israeli leader, according to the transcript, said in response that he was not interested in Lebanon's internal issues.
"I don't care who the Lebanese prime minister is or what goes on in the internal politics there. What worries me is the strengthening of Hezbollah with Iran's support. What's important is that all the factions in Lebanon work to prevent the arming of Hezbollah with additional advanced weaponry. The goal must be to minimize Iran's influence, not only in Lebanon but also in Syria," Netanyahu reportedly said.
Macron reportedly attempted to reassure the Israeli leader and dissuade him from "hasty" action.
"I agree that the influence of Iran and Hezbollah in Syria and Lebanon must be minimized. But Lebanon's stability must be maintained. Cautious action, not hasty action, is required."
Macron also reportedly spoke with Netanyahu about the state of the nuclear accord with Iran, saying: "It's important to keep the nuclear deal. We must support the moderates in Iran and not make it harder for them."
On Tuesday Netanyahu spoke with Russian President Vladimir Putin by phone about a ceasefire deal in the Syrian civil war and Iranian presence near Israel's borders with the war-torn country, the Prime Minister's Office said. The conversation was the latest in a series of high-level contacts between Israel and Russia, amid a dispute between the countries over allowing Iran and Shiite militias backed by Tehran to maintain a foothold in Syria near the Israeli border.
"The conversation lasted about half an hour and dealt with Syria, and Iran's attempt to entrench itself in Syria. Netanyahu insisted on Israeli security and reiterated his opposition to Iran's entrenchment in Syria," Netanyahu's office said in a statement. The conversation came a day after Moscow's envoy to Israel said Iran's military presence in Syria was solely dedicated to the "war on terrorism."