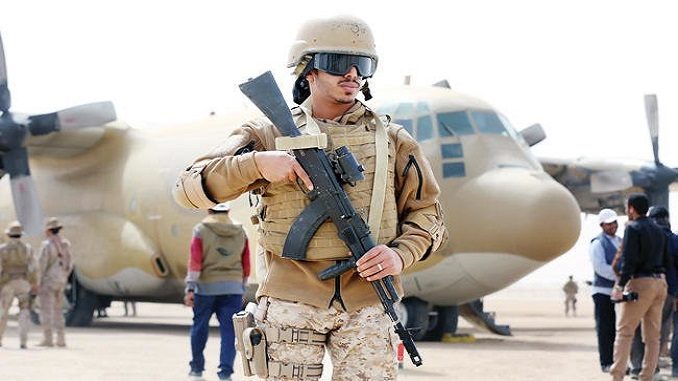 Iran came under sustained diplomatic attack on three fronts on Monday over its destabilizing activities in the region, its ballistic missile program and the "ill-conceived" nuclear deal with world powers, Arab News reports. In Brussels, French Foreign Minister Jean-Yves Le Drian accused Iran of not respecting part of a UN resolution that calls on Tehran to refrain from work on ballistic missiles designed to carry nuclear warheads.
Speaking at a European foreign ministers' meeting, he said the 28 ministers would restate their concerns over Iran's activities in Yemen, Lebanon, and Syria, which he described as destabilizing. In Jerusalem, U.S. Vice President Mike Pence said Washington would withdraw from the nuclear deal with Iran unless its flaws were fixed.
"The … deal is a disaster and the United States will no longer certify this ill-conceived agreement. Washington was working to effectively curb Iran's nuclear and ballistic programs," he told the Israeli parliament.
In Riyadh, Saudi Foreign Minister Adel Al-Jubeir accused Iran of supplying Houthi militias in Yemen with more than 60 ballistic missiles that have been fired at Saudi Arabia.
"The Houthis are responsible for the destruction and devastation in Yemen," Al-Jubeir said at a meeting of ministers from the Saudi-led Arab coalition supporting Yemen's internationally recognized government.
The coalition said on Monday it would commit $1.5 billion in new humanitarian aid for Yemen. It will also "lead the expansion of additional Yemeni ports" to receive cargo and humanitarian assistance, ensure several daily flights of cargo planes carrying aid from Saudi Arabia to Marib province, and establish "safe passage corridors" to ensure the delivery of aid to non-governmental organizations inside Yemen.
The expansion of ports will be supported with up to $40 million from the coalition, which will also allocate up to $30 million to cover transport costs of non-humanitarian shipments intended for the port of Hodeidah, in the Houthi-held territory, to "their intended destinations in Yemen." Additionally, Saudi Arabia will make a donation of up to $2 billion in fuel for the transport of humanitarian aid.
"When the Houthis launch missiles at Saudi Arabia they expect a big reaction, and that is true, our reaction is huge — and that is to increase our help and aid to the Yemeni people," said Mohammed Al-Jaber, the Saudi Ambassador to Yemen.
"The Houthis try to provoke the coalition through their missiles and their attacks, but we fight back with giving more humanitarian aid.
"The coalition is placing its military resources at the disposal of these broad-ranging humanitarian operations. We are backing a professionally planned and detailed humanitarian mission with military power and precision to guarantee that the humanitarian aid reaches the people who need it, to ease their suffering," said coalition spokesman Colonel Turki Al-Maliki.
Saudi Arabia and its embassies abroad have been keen to promote humanitarian efforts in Yemen, including a deposit of $2 billion in Yemen's Central Bank last week to support the Yemeni riyal. The currency slid further against the dollar late last year after the coalition blocked access to all of Yemen's ports for several weeks in response to a Houthi missile launched at Riyadh.