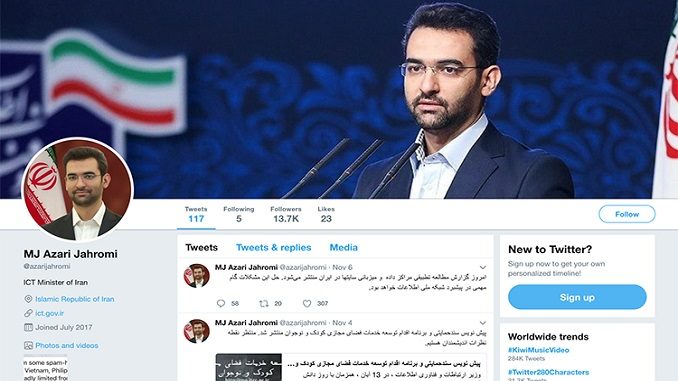 The head of Iran's Information and Communications Technology Ministry has promised to try to lift the state ban on Twitter, which state officials have been using for years while denying access by ordinary citizens in Iran, the Center for Human Rights in Iran reports.
"Removing the ban on Twitter is being looked into. I am following up on removing the filter on Twitter," Minister Mohammad Javad Azari Jahromi, himself an avid Twitter user, told the semi-official Iranian Students' News Agency (ISNA) on November 8, 2017.
Jahromi, who has been accused of directing surveillance operations on citizens during the state crackdown on the peaceful protests of 2009 and personally interrogating activists, said he was in favor of ending the ban soon after his confirmation as a member of President Hassan Rouhani's cabinet.
"The content of Twitter does not contain the immoral material that would justify keeping it banned. Most of its content is reasonable and if the network succeeds in building trust, it's possible the filter could be removed," he said in an interview on August 23, 2017.
Iran banned Twitter in 2009 after it became a source of news about the state's violent repression of widespread protests against the results of the country's disputed presidential election that year. Nevertheless, people who were able to obtain access to circumvention tools continued to use it, while foreign media regularly turned to it as a gauge for understanding public opinion in the country.
Despite the state ban, a growing number of state officials use the app to reach domestic and foreign audiences, including Foreign Minister Mohammad Javad Zarif. President Hassan Rouhani and Supreme Leader Ali Khamenei maintain accounts in Farsi, English, and Arabic. Following Hassan Rouhani's presidential election in 2013- while he and officials within his administration, along with some conservatives, amassed large followings on Twitter-calls for the social media site to be unblocked grew.
Some 44 percent of Iran's 80-plus million people had access to the internet in 2016, according to the UN's International Telecommunication Union (ITU). As a result, Iranian state policies and technical initiatives have increasingly focused on strengthening state control over the internet. After Iranians expressed frustration on social media following state bans issued in October 2017 on Zoho.com, Foursquare.com, and SwarmApp, Jahromi denied involvement and said he had asked for a re-evaluation.
"Recently filtered sites were determined by the judiciary to be against public decency. I have written to the honorable prosecutor to do a re-evaluation," tweeted the minister on November 1, 2017.
The next day the ban was lifted from Zoho.com, a business operating system, but the other apps remain blocked. On October 29, Jahromi announced that a proposal to offer unfiltered internet to journalists licensed by the Culture and Islamic Guidance Ministry had been approved by the Taskforce to Determine Instances of Criminal Content. Civil rights activists said the proposal is discriminatory, is aimed at producing positive reporting on the government by the media, and violates the rights of other citizens.