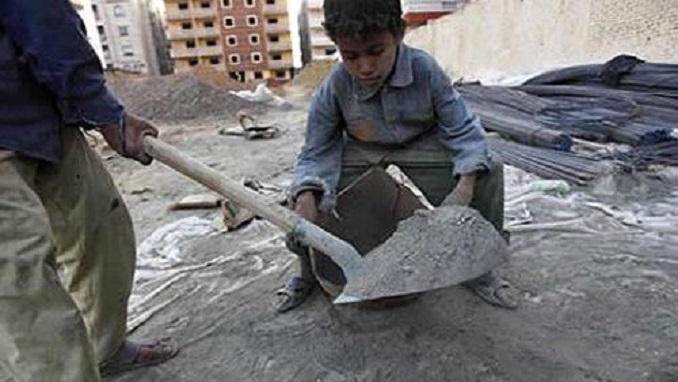 While the project of 46000-hectare water transfer is in its second year of operation in southeastern Iran, nearly 2000 workers are working on the project and struggling with problems such as the unpaid wages, overtime work as well as lack of safety controls.
According to the state-run ILNA News on August 28, 2017, it has been a year and a half since the project of water supply transfer has been operating while the employer has not paid the workers' salaries for several months.
According to the People's Mojahedin Organization of Iran, these workers are working on 40-degree centigrade temperature for 12 hours at the minimum but they return home with empty pockets. The project to transfer the 46000-hectare water supply to the Sistan plain is being operated in 21 workshops. Each workshop is led by a certain contractor and the number of workers employed in each workshop may reach 100. The workers normally work from 7 am to 6 pm.
A worker named Yahya said that he and his colleagues have not been paid for months.
"The contractors have not paid our advances and salaries since the beginning of the year. 100 workers are currently in serious financial crises," he added.
Despite the wage demands, the safety condition of the workplace is yet another issue.
"I have been working in different workshops since childhood and the safety matters have always been one of the critical issues for me and my colleagues. The safety condition is also limited in the current workshop I am working for. We work in an open-air workshop under direct sunlight and wind-blowing dust air. We do not even have a normal mask to wear let alone the shoes and uniforms. Of course, as the inspectors visit the workshops, they give us shoes and helmets. Perhaps many people do not know that we are working in such a situation to improve their environment," Yahya added.
"We work from 7 am to 6 pm, even on Fridays. We do not have any off day. Overtime work cannot sustain our livelihood. We are forced to work here because there is no other job to do and we have not protested so far. Some of my friends are also working on different projects in different parts of Iran. Our wages are quite the same and if you talk to them they will also say the same words regarding working conditions," Yahya referred to the working hours and salaries.
The Secretary of Labor Council of Sistan and Baluchestan Province, Hosseinali Akbari admitted that the labor activists express their concern about the safety conditions of workshops as well as the unpaid salaries. The workers do not wear uniforms, helmets, and shoes in the open-air workplace.