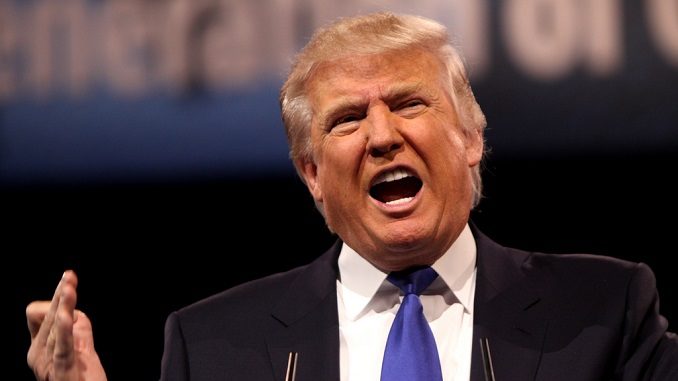 President Donald Trump decided Friday to continue a halt in economic sanctions related to the 2015 nuclear accord with Iran, but issued new sanctions against 14 people and entities involved in Tehran's ballistic missile program and a crackdown on recent protestors, Reuters reported.
The decision will leave the current nuclear deal intact for now, but Trump, who has repeatedly denounced the agreement negotiated by his predecessor, warned that this is a "last chance" for Iran and called on European allies to help him "fix" the nuclear deal.
"Today, I am waiving the application of certain nuclear sanctions, but only in order to secure our European allies' agreement to fix the terrible flaws of the Iran nuclear deal," Trump said in a statement issued Friday. "This is the last chance. In the absence of such an agreement, the United States will not again waive sanctions in order to stay in the Iran nuclear deal. And if at any time I judge that such an agreement is not within reach, I will withdraw from the deal immediately."
Trump "decertified" the deal in October, saying the move is in the interests of the U.S. But he has so far stopped short of pulling out of the agreement altogether.
Iran said on Saturday it would retaliate against sanctions imposed on its judiciary head. The U.S. Treasury statement on Friday saying Ayatollah Amoli-Larijani was responsible for the "torture or cruel, inhumane, and degrading treatment or punishment of prisoners in Iran, including amputations".
"The Trump regime's hostile action (against Larijani)… crossed all red lines of conduct in the international community and is a violation of international law and will surely be answered by a serious reaction of the Islamic Republic," Iran's Foreign Ministry said in a statement carried by state media.
It accused Trump of "continuing to take hostile measures against the Iranian people and repeating the threats that have failed many times".
The statement said Iran "will not accept any amendments in this agreement, be it now or in the future, and it will not allow any other issues to be linked to the JCPOA [Joint Comprehensive Plan of Action]".
Iran's Foreign Minister Mohammad Javad Zarif said on Friday Trump's move was a "desperate attempt" to undermine a "solid" deal.
The accord signed between six global powers and Iran saw Iran agree to reduce uranium enrichment activity drastically, dispose of its enriched uranium stocks and modify a heavy water facility so it could not produce material suitable for a nuclear bomb.
In return, decades of international and U.S. nuclear-related sanctions were suspended. As part of an agreement with Congress, the president has to sign a waiver suspending the sanctions every 120 days.