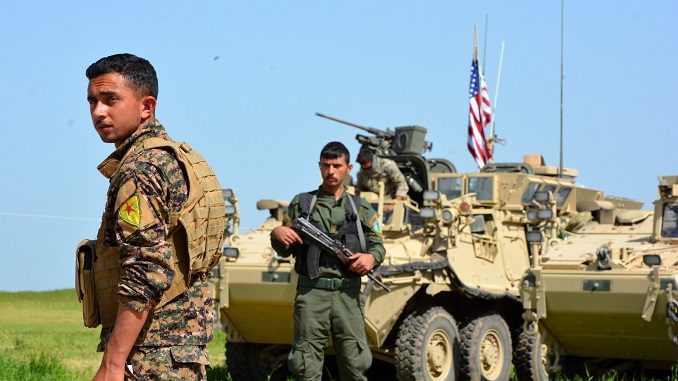 The United States plans to use aggressive sanctions to diminish the influence of Iran in Syria and remove Iranian-backed troops from the country, a U.S. official has said.
During a testimony before the U.S. Senate Foreign Relations Committee on Thursday, Acting Assistant Secretary of State for Near Eastern Affairs David Satterfield was asked what function U.S. troops serve in Syria besides fighting ISIS, according to The Hill.
Satterfield at first declined to answer, saying he would prefer a classified setting.
But committee Chairman Bob Corker interjected to say "that won't pass muster," demanding Satterfield provide at least a general answer.
"Senator, it's a combination of measures. First and foremost it is aggressive sanctioning and measures undertaken by the U.S. and our partners to deny the physical tools, the ability to move assets and the ability to finance Iran's activities," Satterfield answered.
The U.S. will remain present in Syria after the military conflict ends in order to ensure stability in the region and assist its allies, he said.
"We are going to stay for several reasons: stabilization and assistance in the vital north and north-east; [and] protection of our allies the Syrian Democratic Forces who have fought so valiantly against ISIS [Daesh] in the north-east."
Satterfield explained that working to help transform political structures to produce a model for the rest of Syria as well as countering Iran's efforts to enhance its presence in the region are some of the other reasons for the US decision to remain on the ground in Syria.
Responding to a question of how to avoid the prospect of a "never-ending war," Satterfield said the conditions for recalling U.S. troops will be determined on the set of conditions and the broader assessment of the situation in Syria.
There are no "hard dates" set for when US troops may return back to the United States, Satterfield added.
Iran, one if the state-guarantors of the Syrian ceasefire along with Russia and Turkey, has admitted that it was sending military advisors to Syria in order to help the legitimate government's fight against terrorism, however, denied allegations of plans to set a military base in the country.