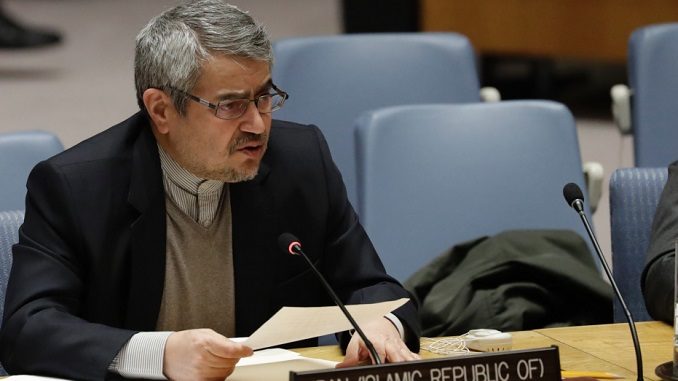 The UN Security Council is planning an emergency meeting about Iran on Friday after the U.S. asked the world body to show support for Iran's anti-government protesters, The Washington Post reports. With council members divided in their views of the demonstrations that have roiled the Islamic Republic, it's not yet clear how the discussion will take shape or what might come out of it.
Alma Konurbayeva, a spokeswoman for current council president Kazakhstan, confirmed that Friday afternoon's meeting is about Iran. The U.S. called on Tuesday for such a session, but council members could insist on a vote before taking up the topic, and it would take nine of the 15 votes to go forward.
A spokeswoman for the U.S. mission didn't immediately respond to phone and email inquiries about the meeting.
"This is a matter of fundamental human rights for the Iranian people, but it is also a matter of international peace and security," the U.S. envoy, Nikki Haley, said in a statement Thursday night. She added that it would be "telling if any country tries to deny the Security Council from even having this discussion."
Iran's interior minister said up to 42,000 people took part in the week of protests and unrest sparked by economic woes. At least 21 people have been killed and hundreds arrested. Meanwhile, tens of thousands of people took part in counter-demonstrations Wednesday backing the clerically overseen government, which has accused the U.S. of instigating the protests.
Iran's prosecutor general, Mohammad Jafar Montazeri, said Thursday that an American CIA official was the "main designer" of the demonstrations. And Iran's UN envoy, Ambassador Gholamali Khoshroo, complained in a letter to the Security Council president Wednesday that U.S. President Donald Trump's "absurd tweets" had "incited Iranians to engage in disruptive acts."
Trump's administration has denied having any hand in the demonstrations, saying they arose completely spontaneously. The CIA declined to comment. The president's tweets haven't called for violence or disruptive acts, but he has commended the protests, expressing "such respect for the people of Iran as they try to take back their corrupt government" and pledging "great support from the United States." UN Ambassador Nikki Haley praised the anti-government protesters as brave and said "the UN must speak out" to support them.
"The people of Iran are crying out for freedom. All freedom-loving people must stand with their cause," she said at a news conference Tuesday.
Not all council members see a need to weigh in. Russia's U.S. embassy warned Monday against "external interference" in what it views as a domestic issue in the Islamic Republic; the two nations have close ties. Russian Foreign Ministry spokeswoman Maria Zakharova went on to mock the U.S. call for a UN discussion.
"The U.S. delegation undoubtedly has something to share with the world. For example, Nikki Haley could share the American experience of dispersing protest rallies," Zakharova said on Facebook Wednesday, mentioning mass arrests during the Occupy Wall Street protests, among other things.
Iran isn't a member of the Security Council. The UN debate was scheduled as Western news agencies reported an apparent lull in the street demonstrations, which entered their second week amid a heavy police presence on the streets of the capital, Tehran, and elsewhere.
At least 22 people have been killed and more than 1,000 were reportedly arrested in the demonstrations, which are the strongest challenge to Iran's leadership in almost a decade. The French AFP news agency late on January 4 reported a heavy police presence on the streets of Tehran and said its reporters had not seen fresh antigovernment protests entering the late-night hours.
The report said limited activity on social media suggested that unrest in provincial towns was also down, although there was no way to confirm the reports. The government has been blocking social media to disrupt the spread of information about the protests.
The Iranian protests have given Trump a fresh avenue to try to muster world opinion against a nation he has decried since he ran for president. After taking office last year, Trump refused this past fall to certify Iran's compliance with the 2015 nuclear deal that lifted some sanctions in return for Iran curbing its nuclear program. Trump said Tehran was getting disproportionate benefits, considering its concessions.
The U.S. imposed new sanctions Thursday on five Iranian entities over their involvement in developing ballistic missiles. While those sanctions were unrelated to the ongoing protests, Treasury Secretary Steven Mnuchin said more sanctions "targeting human rights abuses are coming."