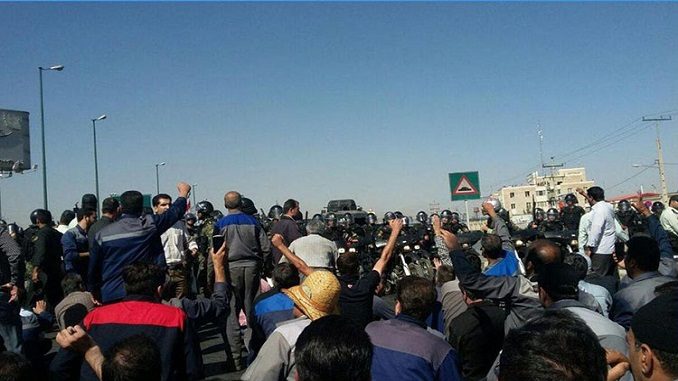 Anti-riot police forces stormed peaceful protests by workers at two industrial units in Arak, the capital of Iran's Central Province, on September 19, 2017, and arrested several people, according to information received by the Center for Human Rights in Iran (CHRI).
A labor activist who asked not to be identified for security reasons told CHRI that day that several workers were detained during the protests against the Heavy Equipment Production Company (HEPCO) and the Azarab Industries Company.
"The police and anti-riot forces went on the attack and beat and arrested anyone they could and took them to the security police detention center [in Arak, 173 miles south of Tehran]," added the source. "We don't know how many are in detention or what they have been charged with. But we think there are 20 to 30 in custody."
The protesters are demanding several months of unpaid wages and benefits, added the source. The state-funded Iranian Labor News Agency (ILNA) reported on the protests but omitted the use of force by the police.
Images shared on social media show violence against the protesters and a heavy presence of anti-riot police forces. In one video clip, protesters are heard shouting, "Poor workers don't deserve to be beaten."
According to ILNA, the workers protesting against Azarab have not been paid for four months, despite promises by company and provincial officials in July 2017 that they would be issued back pay. At HEPCO, workers have not been paid their salaries and benefits for at least six months since January 2017.