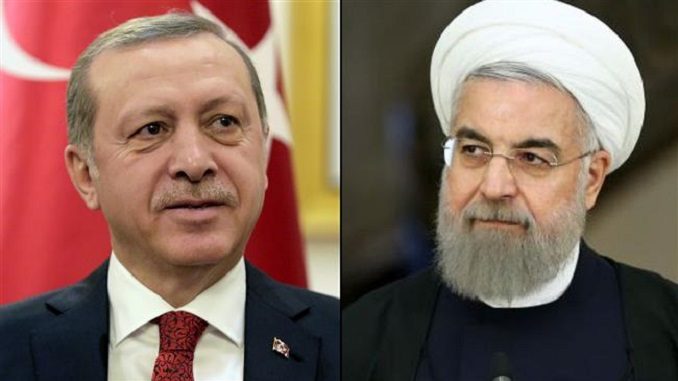 Iranian President Hassan Rouhani said in a phone call with his Turkish counterpart that Iran is ready to expand bilateral relations in all fields, pointing out that the ties between the two countries should be promoted to a strategic level.
According to Mehr News, during the Thursday phone call, the Iranian president expressed appreciation for the congratulations of Turkish President Recep Tayyip Erdogan on the anniversary of the Islamic Revolution victory, saying "we believe that the relations between Iran and Turkey should be promoted to a strategic level in all fields of mutual interest."
Rouhani also noted that Iran was ready to expand economic relations with Turkey, adding that a "faster implementation of the use of the national currency of the two countries in business transactions can accelerate and boost Tehran-Ankara economic relations."
He also expressed satisfaction with recent talks with the Turkish foreign minister, who visited Tehran, saying that they agreed the two countries must continue to work together and consult with each other in order to counter the regional threats to both Iran and Turkey, as well as to other Islamic countries.
Rouhani additionally underlined the importance of developing tripartite cooperation between Iran, Turkey and Russia on regional issues, referring to the proposal to hold a meeting of the three presidents in Istanbul regarding Syria. He also called for consultations of the foreign ministers of the three countries to set the agenda and time of the tripartite meeting.
Erdogan similarly expressed willingness to deepen relations with Tehran in all areas of mutual interest and congratulated Rouhani and the Iranian people over the anniversary of the victory of the Islamic Revolution. The Turkish president also emphasized that the use of national currency business transactions was very important for both countries and could make a leap in Tehran-Ankara economic cooperation.
Referring to Iran and Turkey's close views on major regional and international issues, he said, "new regional threats indicate that close cooperation between Turkey and Iran is important, and we are happy with the promotion of cooperation in countering terrorism and boosting security."