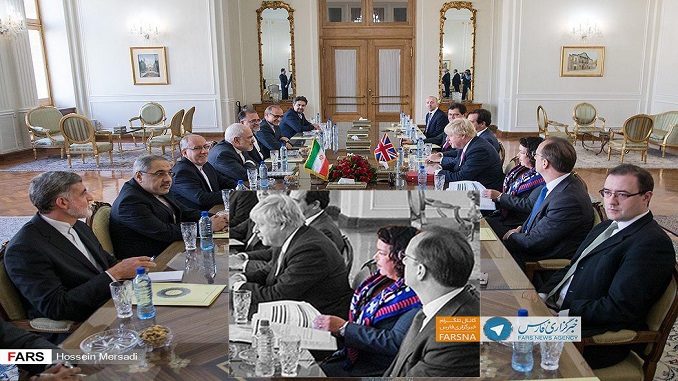 One of the UK's top diplomats has caused a stir on a recent trip to Tehran after it appeared the Iranian Foreign Minister had told her to put a headscarf on. Karen Pierce, currently political director of the Foreign Office and soon to become the UK's permanent representative to the UN, accompanied foreign secretary Boris Johnson as part of a delegation to Iran on Sunday widely understood to be aimed at freeing dual national Nazanin Zaghari-Radcliffe from an Iranian jail, The Independent reports.
In video of the high level bilateral talks Pierce is seen arriving for a meeting with foreign minister Javid Zarif with a scarf around her shoulders rather than over her head.  Mr Zarif greets the other members of the British party with a handshake, but instead of reaching for Ms Pierce's hand instead points towards the ceiling with both hands, a gesture state news reported as the diplomat telling the visiting dignitary to pull the scarf up over her hair.
Pierce is also photographed in talks without wearing the scarf on her head. In what appears to be a different meeting, she is wearing a different, orange headscarf. State-run Fars News and Tasnim News Agencies both labelled her appearance "inappropriate", unleashing a storm of comments from Iranians with opinions on both sides of the argument on social media.
"I was bombarded with comments from ordinary people who was shocked that how humiliating that a high representative of Iran [was] acting like the morality police. One of the women wrote to me that Zarif's humiliating gesture is familiar to millions of Iranian women who are told every day to improve their [appearance], sometimes with fake smiles, sometimes using violence," Mahsi Alinejad, founder of anti-hijab movement My Stealthy Freedom, told The Independent.
The hjiab has been compulsory in Iran since the Islamic Revolution of 1979. Women face significant cultural and legal discrimination in the country.  In recent years, women's rights activists have begun to rebel against the religious authorities' strict dress and morality codes.
Finally, a western female politicians stood [up] for her dignity and rejected the compulsory hijab at the meeting with Islamic Republic officials," Alinejad said from New York.
A Foreign Office spokesperson told The Independent the government had no comment on the matter.
Pierce was appointed as the UK's permanent representative to the UN last month. She is the first woman to ever hold the position. Previously she served as the UK's ambassador to Afghanistan.