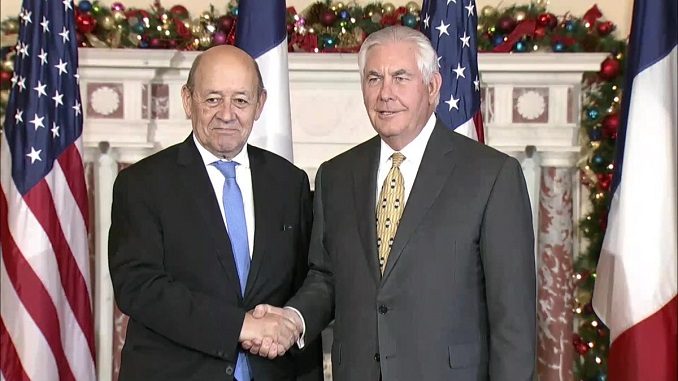 During his visit to Washington, French Foreign Minister Jean-Yves Le Drian stated that France and the United States are determined to "vigorously" raise pressure on Iran over its ballistic missile program, including possibly through sanctions, according to a report by Reuters International.
On Monday, Le Drian was set to meet U.S. Secretary of State Rex Tillerson, as wells as White House national security adviser H.R. McMaster, and U.S. President Trump's special adviser, Jared Kushner. Le Drian, previously France's defense minister, also planned to meet with Senators Bob Corker, R-Tenn., and Ben Cardin, D-Md., the top Republican and Democrat on the Senate Foreign Relations Committee.
In recent months, tensions have risen between Iran and France. Both sides have publicly criticized each other, and le Drian accused Iran of "hegemonic temptations" in the region. In fact, President Emmanuel Macron was attacked by Tehran over his tough stance, who said Paris would soon lose its international credibility if it "blindly follows" U.S. President Donald Trump.
"They didn't like the word, but I stand by it. Iran's hegemonic temptations in the region is a matter of urgency because it's within the framework of getting peace in Iraq and Syria that we will stop this process," Le Drian told reporters.
Iranian officials have been particularly aggrieved by France has criticized Iran over its ballistic missile tests and has suggested that there may possibly be new sanctions over the program. Tehran calls their missile testing program "solely defensive in nature." Le Drian is due in Iran at the beginning of January, where he plans to clearly outline Paris' concerns.
"We are fully determined to press very vigorously on Iran to stop the development of an increasingly significant ballistic capability," Le Drian said, reiterating that sanctions were possible.
Le Drian said that he believes that Washington is beginning to understand the European stance regarding the need to maintain the accord, after his talks with the U.S. officials.
Meanwhile, German Foreign Minister Sigmar Gabriel said his country was concerned about Iran's role in the region and noted that Berlin and Riyadh agreed on the external political role played by Iran in the region and the role of Hezbollah. In an interview with Pan-Arab Asharq Al-Awsat newspaper, Gabriel emphasized that Germany and Saudi Arabia were on the same page when it comes to the need to counter Iran's political role in the region.
"We are very concerned about Iran's external political role in the region. I said so clearly during my visit to Washington a while ago. We want to confront the problem of the Iranian role in the region in partnership with the Americans, without harming the nuclear agreement. In this context, we have clearly expressed our condemnation of Iran's missile tests, as they are in no way consistent with Security Council Resolution 2231," he said.
Keeping similar tone, Italy has condemned on Wednesday the launch of a ballistic missile aimed at Riyadh by the Iranian-backed Houthi militias in Yemen, which was intercepted by the Saudi Royal Air Defense Force.
"This terrorist act constitutes a threat to regional peace and stability and undermines the prospects for a negotiated and comprehensive solution to the crisis," Italian Foreign Minister, Angelino Alvano, said in a statement.