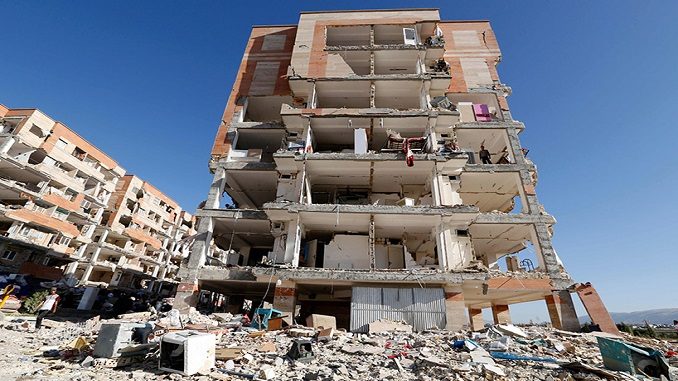 The ease with which some state-built homes collapsed in Sunday's earthquake in western Iran showed corrupt practices when they were constructed, Iranian President Hassan Rouhani said on Wednesday in a sentiment shared by many ordinary Iranians, Reuters reports.
"That a house built by (ordinary) people in the Sarpol-e Zahab region has remained standing while in front of it a government-built building has collapsed is a sign of corruption. It's clear there has been corruption in construction contracts," Rouhani told a cabinet meeting, state media said.
Rouhani said on Tuesday that any shortcomings in government constructed buildings in the earthquake zone will be punished. Mohammad Hossein Sadeghi, the prosecutor general in Kermanshah, the largest city in the earthquake zone, said on Wednesday that the quality of construction of new buildings that were heavily damaged would be investigated and charges may be brought against anyone deemed responsible.
"If there are any problems with the construction, the individuals who were negligent must answer for their deeds," Sadeghi said, according to the Iranian Students' News Agency (ISNA).
An arrest warrant has been issued for a contractor responsible for a recently built hospital which was heavily damaged in the town of Islamabad-e Gharb, parliamentarian Heshmatollah Falahatpisheh said on Tuesday, according to the Iranian Labour News Agency (ILNA). Some of the houses which collapsed in an earthquake that killed at least 530 people and injured thousands of others were built under an affordable housing scheme initiated in 2011 by Rouhani's predecessor, Mahmoud Ahmadinejad.
During his presidency, Ahmadinejad initiated a major plan to provide low-cost housing across the country — an initiative that has long faced many criticisms for the quality of construction and other issues. After taking office in 2013, Rouhani, who was among the critics of the Mehr Housing Scheme, said that despite his opposition to the plan, he was committed to completing the homes that had been promised. Now, while conservative newspapers and outlets have kept their silence regarding the Mehr Housing Scheme and are complaining about the government's lack of speed in aiding people, Reformist newspapers are pointing the finger at Ahmadinejad as the man who caused the many deaths in Kermanshah. In this vein, Reformist newspaper Hamdeli wrote November 14:
"The Mehr Housing [Scheme] is precisely the example of mismanagement of an administration that sought to announce at any price that it was in favor of poor people. Mahmoud Ahmadinejad and all the people involved in building the Mehr Housing [units] and all the contractors who have been part of these projects must be put on trial," the report said.
Rouhani launched an investigation Tuesday into why government housing built by his hard-line predecessor collapsed while others withstood a powerful earthquake near the border with Iraq that killed more than 530 people. In the Kurdish town of Sarpol-e-Zahab, which was reconstructed in the decades since the 1980s war with Iraq, the outer walls of apartment complexes tumbled away in the magnitude 7.3 earthquake Sunday night.
"Other buildings near our apartment are not damaged as much because they were built privately," said Ferdows Shahbazi, 42, who lived in one of the Mehr buildings. She sarcastically added: "This is 'kindness' as the name suggests very well!"
Ahmadinejad's official channel on the messaging app Telegram, which is popular in Iran, called the accusations "media slander" and said those who circulated photos and videos of damaged Mehr homes were "clumsy charlatans."
Ahmadinejad adviser Ali Akbar Javanfekr also wrote on a website for allies of the former president: "Heavy waves of propaganda against Mehr are aimed at covering up the weakness and inefficiency of the (Rouhani) administration in helping quake-hit people."
Meanwhile, the Islamic Revolution Guards Corps (IRGC) plans to construct dozens of residential units for quake-hit people in Iran's western province of Kermanshah, a senior official at Basij (volunteer) Student Organization, affiliated to the IRGC, announced.
Speaking to the Tasnim News Agency, Sadeq Monfared said some volunteer groups are ready to help provide accommodation for those made homeless by Sunday's massive earthquake in Kermanshah. He added that 50 volunteer groups from across the country have announced their readiness to contribute to relief operations and rebuild quake-hit areas in the province. The official went on to say that based on the capabilities of the volunteer groups and the IRGC, they will build residential units for those made homeless.