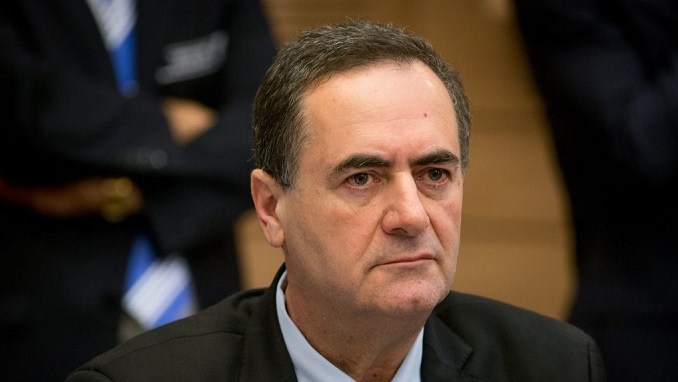 Prime Minister Benjamin Netanyahu should focus on trying to get U.S. President Donald Trump to suspend, amend or annul the nuclear agreement with Iran when the pair meets on the sidelines of the UN General Assembly in New York in ten days, Israel's intelligence affairs minister said on Monday, Haaretz reports.
Speaking at a counterterrorism event in Herzliya, Minister Yisrael Katz (Likud) made the comments amid the debate within the Trump administration about the future of the agreement with Iran. The U.S. president is scheduled to tell Congress on October 15 whether Iran is still in compliance with the nuclear deal or in violation of it.
A presidential statement that Iran is in violation of the accord could pave the way for the reinstatement of sanctions by the United States – and for its withdrawal from the agreement, which was co-signed with China, Russia, the United Kingdom, France, and Germany.
"The first mission of the Israeli prime minister during his upcoming visit to the United States is to demand that the U.S. president suspend, amend or annul the nuclear agreement with Iran," said Katz. "Iran is the new North Korea. Action should be taken against it now, lest we regret tomorrow what we did not do yesterday."
Citing the Korean crisis, Katz noted that "the problems from the perspective of America's allies South Korea and Japan, and the unresolvable dilemmas that have arisen, show that Iran has to be forced to sign a new agreement, which will prevent it from achieving nuclear arms forever, as President Trump promised," Katz said.
The new agreement should also cover "the areas of missiles and Iran as a supporter of terrorism," Katz added.
Netanyahu has spoken with the U.S. president several times since his election last November, both publicly and in closed sessions, in attempts to persuade Trump to reconsider the nuclear agreement. Trump has repeatedly named the accord as one of the worst ever, implying that Iran is performing activities that are contrary to the spirit of the agreement.
Instead of focusing the human rights and other crucial sectors in the country, Iran's regime is repeatedly breaching the agreement through testing long-range rockets and pursuing nuclear programs.