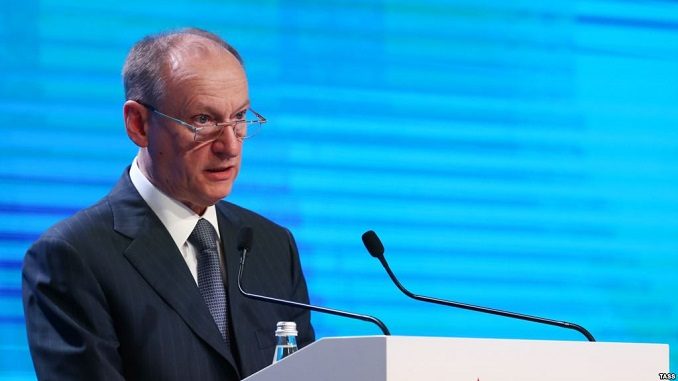 Russia has prevented "an inevitable Israeli attack" on what the daily characterizes as "Iran's missile factories in Lebanon and Syria," Radio Farda reports. The daily quotes "informed sources" as saying that Israeli Prime Minister Benjamin Netanyahu had complained about "the continuous supply of arms to Hezbollah" by Iran in a meeting with Russian President Vladimir Putin last month.
According to the daily, Netanyahu "hinted about Israel's decision to attack Iranian arms factories and Hezbollah positions in Syria and Lebanon."
Asharq al-Awsat's sources told the daily that a Russian delegation led by National Security Council Nikolai Patrushev was assigned to visit Jerusalem "to carefully study the Israeli fears about Hezbollah and Iran in Syria, particularly after Tehran rejected Moscow's request to pull out its forces from south Syria." Patrushev held talks in Jerusalem on Thursday, February 1 with Netanyahu and the secretary to the Israeli National Security Council Meir Ben Shebat.
The meeting in Jerusalem took place only three days after Netanyahu had paid a visit to the Russian capital city and met with Putin. Meanwhile, Barak Ravid, a senior correspondent for the Israeli Channel 10 TV, tweeted on 29 January that: "Netanyahu told Putin Israel would act militarily if the international community won't act to stop Iranian entrenchment in Syria & the building of precision missile factories in Lebanon." Israel and Russia have not reacted to Asharq al-Awsat's report.
However, last week, an Israeli army spokesman warned Lebanese that "Iran is turning Lebanon into a missile factory," and that "It is no longer just transfer of weapons, money and advice. Iran has de-facto opened a new branch —the Lebanon Branch," The Times of Israel reported on 29 January.
Meanwhile, Islamic State may be on the wane in Iraq and Syria but for Iran, the threat is still strong, centered on Kurdish communities along the Iraq-Iran border where militants have operated in recent years. The locals even have a nickname for the area, "Tora Bora", after the mountain hideout al Qaeda leader Osama bin Laden fled to after the United States invaded Afghanistan in 2001, a senior Iraqi security official in the border region said.
In late January, three Revolutionary Guards were killed in the Bamo region fighting 21 Islamic State militants who had sneaked in from Iraq. Three militants detonated suicide vests and two others were killed in the clash, the Guards said.
Days earlier, Iran's intelligence ministry found a weapons cache in the town of Marivan on the Iranian side of the border that included TNT, C4, electronic detonators, grenades, ammunition clips for AK-47 machine guns and rocket-propelled grenades.
The clash and discovery indicate that Islamic State still has the ability to penetrate the tightly controlled security net of the Islamic Republic, which has largely managed to avoid the devastation wrought by the group in neighboring countries.
"Today (Islamic State) does not control a country … in order to assert that they exist, they may carry out an attack any day," Hossein Dehghan, a former defense minister and now an adviser to Supreme Leader Ayatollah Ali Khamenei, said in a recent interview with the semi-official Tasnim news agency.
Halabja, the largest town on the Iraqi side, is most often remembered for a chemical attack ordered by then-President Saddam Hussein in 1988 which left thousands dead.