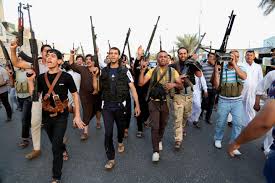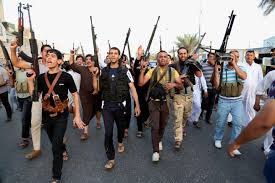 As the Iraqi security forces are moving deeper into eastern districts of Mosul, the Iranian media reports that militia groups from the Popular Mobilization Forces (PMF) are making territorial gains against the Islamic State in Mosul's western region.
"People's Mobilization forces have been able to liberate more than 45 villages and advance up to 350 kilometers toward the city of Tal Afar in the west of Mosul," Muhammad al-Basri, a PMF field commander told Fars News, an Iranian semi-official news agency close to the Islamic Revolutionary Guard Corps (IRGC).
Asked about the possibility of fighting terrorists in Syria, PMF officials told Fars News that they would consider fighting in Syria after the liberation of Mosul and other Iraqi cities so that all threats to the Iraqi security are eliminated. Ahmad Al-Assadi, the PMF's spokesman and an Iraqi parliamentarian, also confirmed to Fars News that the PMF would go after the Islamic State inside Syria in coordination with the Iraqi and Syrian governments.
But Hadi al-Amiri, a powerful PMF commander and the leader of the Badr Organization, emphasized that fighting terrorists in Iraq remained a priority: "The mission of the People's Mobilization is to liberate all Iraqi territory and close all borders. But going into Syria will also be considered if needed, because if Daesh [Islamic State] is not wiped out in Syria, it will remain a threat to Iraq."
The PMF consists of militia forces largely from Shiite but also other Iraqi ethnic and religious groups. It was established two years ago following a religious decree by Iraq's top cleric Grand Ayatollah Ali Sistani to fight the Islamic State. While some PMF groups have close ties with Qassem Soleimani, the head of the IRGC's elite Quds Force, any large-scale involvement of the Iraqi militias in the Syrian civil war is far from guaranteed.